Kobe Active Aging Research Hub International Symposium highlights the importance of collaboration among East Asian countries in the COVID-19 era
On March 16, Kobe Active Aging Research Hub held an online international symposium on 'COVID-19 and the older adults in Asia'. Three esteemed directors of aging and social welfare research centers at Shanghai Jiaotong University, Ewha Womans University, and The University of Hong Kong respectively were invited to speak at the symposium. The online event attracted over 60 attendees from countries such as China, Singapore, France and the United States.
Chaired by Professor KATAGIRI Keiko (Director of Kobe Active Aging Research Hub at Kobe University), the symposium began with an opening speech from Professor KIMURA Kan (Director of Kobe University's Center for Asian Academic Collaboration at Kobe University). He expressed his hopes for enhancing research collaboration in the East Asian region, which is home to the world's fastest aging societies that also have similar COVID-19 outbreak trends.
Four presentations were given during the symposium to address the impacts of COVID-19 in China, Korea, Hong Kong and Japan. The presentations examined this topic by looking at 1) the current COVID-19 situation, 2) government and community level policies and measures, 3) COVID-19's impact on the provision of health and care services, 4) risk perception and behavioral changes in elderly people, and 5) the wider context of the media's attitude to aging including negative coverage. All speakers expressed serious concerns about the social isolation of older adults and reductions in the availability of both health and care services. They pointed out the importance of utilizing AI and ICT to help bridge the gap. The presentations covered a wide range of key topics such as the welfare system, AI and ICT, mass media and ageism, and older adults themselves, which greatly interested the symposium's attendees.
In her closing remarks, Professor KATAGIRI thanked the speakers and attendees for making the symposium a success and expressed her hopes for the continued expansion of research collaboration among research centers in East Asia. 
Related Links:
Kobe Active Aging Research Hub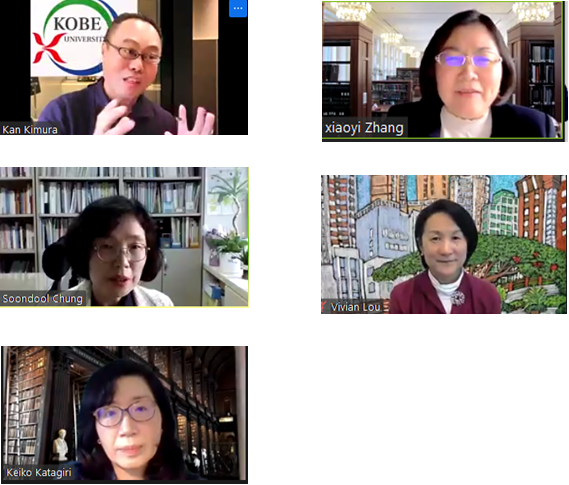 (Graduate School of Human Development and Environment)