Kobe University announced winner of "the Nihon-Ryugaku Awards in National & Public Universities of West Japan" second year in a row
October 12, 2021
Info
Keywords: Info, Award, Students, Education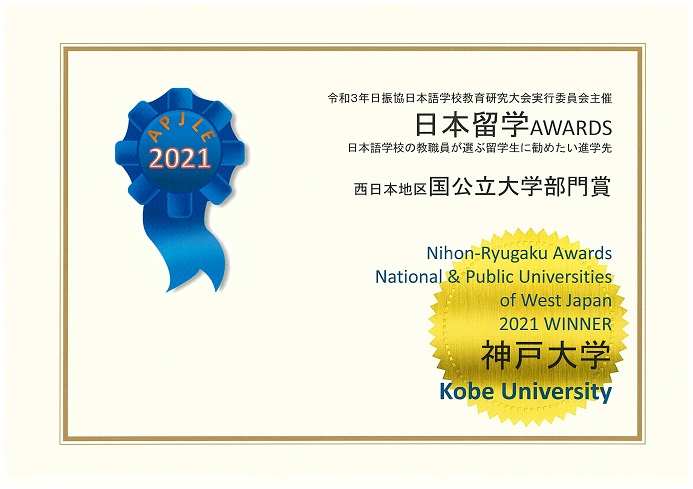 Kobe University is honored to receive first place in the Nihon-Ryugaku Awards, category of National & Public Universities of West Japan, awarded by the Association for the Promotion of Japanese Language Education.
The Nihon Ryugaku Awards were established in 2012 with the aim to improve Japan's reception of international students. The categories are determined by instructors and staff at Japanese Language Schools across Japan, voting for the University or Graduate School at which they recommend their own students to pursue their studies.

This year 50 higher education institutions were ranked by 450 votes from 166 Japanese Language Schools, and the top schools from East and West Japan were respectively awarded across ten categories.
Kobe University has previously won awards in 2013, 2014, 2018, 2019 and 2020, making this the 6th overall win, and first place second year in a row. Kobe University was rated highly for the rich learning experience, the academic support offered to exchange students, and overall reputation.
While this pandemic imposes various restrictions on studying abroad, at Kobe University we continue our endeavors to further enrich the quality of education and the various forms of support we offer our international students, for them to grow and thrive in wider global society.
A message from OHMURA Naoto, Kobe University Executive Vice President in charge of Education and Internationalization:
"It is a great honor to be selected to receive such an accolade two years in a row. We believe we can provide our students with a stable exchange experience despite these unprecedented times by continuing to respond to our exchange students' needs, by seeking ways to improve our financial support as well as our academic and research environments."
External Link

Nihon-Ryugaku Awards 2021
https://www.ryugakuawards.org/
(International Exchange Division)