Kobe University Brussels Workshop 'New Opportunities for EU-Japan Research & Innovation Cooperation' was held
November 4, 2021
Info
Keywords: Info, Research, International relations, Grants & funding
On October 21, a Kobe University Brussels workshop was held online entitled 'New Opportunities for EU-Japan Research & Innovation Cooperation'. This workshop was jointly organized with the Vrije Universiteit Brussel, where Kobe University Brussels European Centre (KUBEC) is located. It was also held with support from Waseda University and Kansai University, and in conjunction with the UniLiON network of University Offices in Brussels. The event aimed to promote international joint research through both European and Japanese research funding schemes, including Horizon Europe.
Speakers were from various organizations involved in EU-Japan cooperation, including the European Commission, Japanese funding agencies, universities, research institutions and the private sector. The event attracted over 80 participants including UnILiON members, researchers, students and government officials from Europe and Japan.
The Zoom webinar began with opening addresses by Professor KAWABATA Toshinori (Executive Vice President in charge of Research, Social Co-Creation and Innovation, Kobe University) and Ms. Maria Cristina Russo (Director for Global Approach and International Cooperation in R&I, DG for Research and Innovation, European Commission). Afterwards, three sessions were held on the following themes: 1) new funding opportunities in Horizon Europe and Japanese research funding programmes, 2) introductions to 5 Japanese institutions who are focused on research cooperation between EU-Japan, and 3) a discussion on the challenges and opportunities presented by EU-Japan collaborations.
From Kobe University, Professor KITA Takashi (Vice President in charge of Research, Social Co-Creation and Innovation) delivered a presentation introducing the university's research highlights and its activities with Europe. In the third session moderated by KUBEC's advisor Mr. Patrick Vittet-Philippe, active discussions on EU-Japan cooperation took place in which Professor Kita also participated.
Kobe University has enhanced its presence in Europe through KUBEC. This follow-up workshop and brokerage event complemented the 11th Kobe University Brussels European Centre Symposium entitled 'Green Horizons, Sustainable Futures: EU and Japan Research for Climate Prepared, Resilient Societies', which was held the previous day (October 20). We will keep promoting cooperation with Europe in the fields of education and research by continuing to hold various events like this.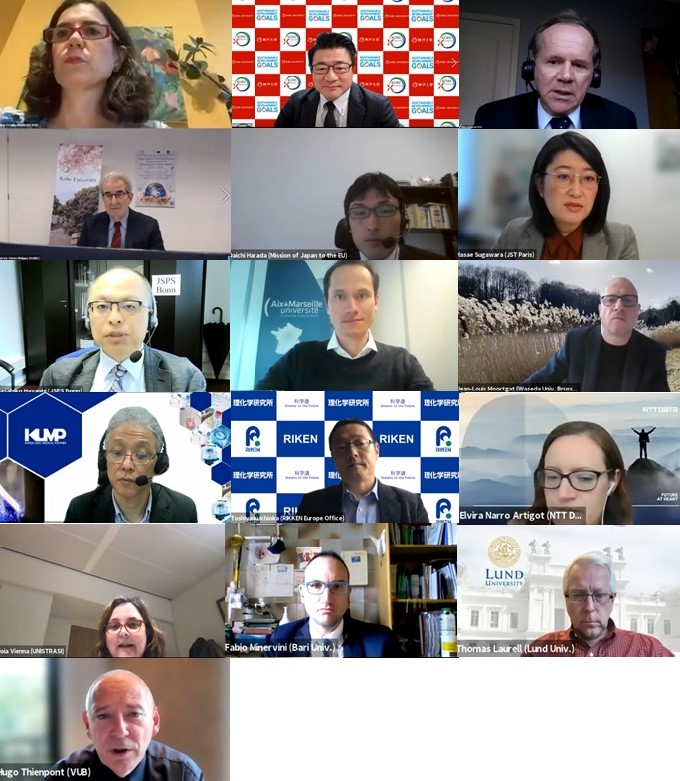 Related Links:
  Event Programme
  Event Documents (Kobe University members only)
  The 11th Kobe University Brussels European Centre Symposium
(Office of Research Management/International Planning Division)