KU Clubs: Rowing- Synchronizing their breathing to attain the team goal of Top 8
November 18, 2021
Info
Keywords: Info, Students, Leisure & sport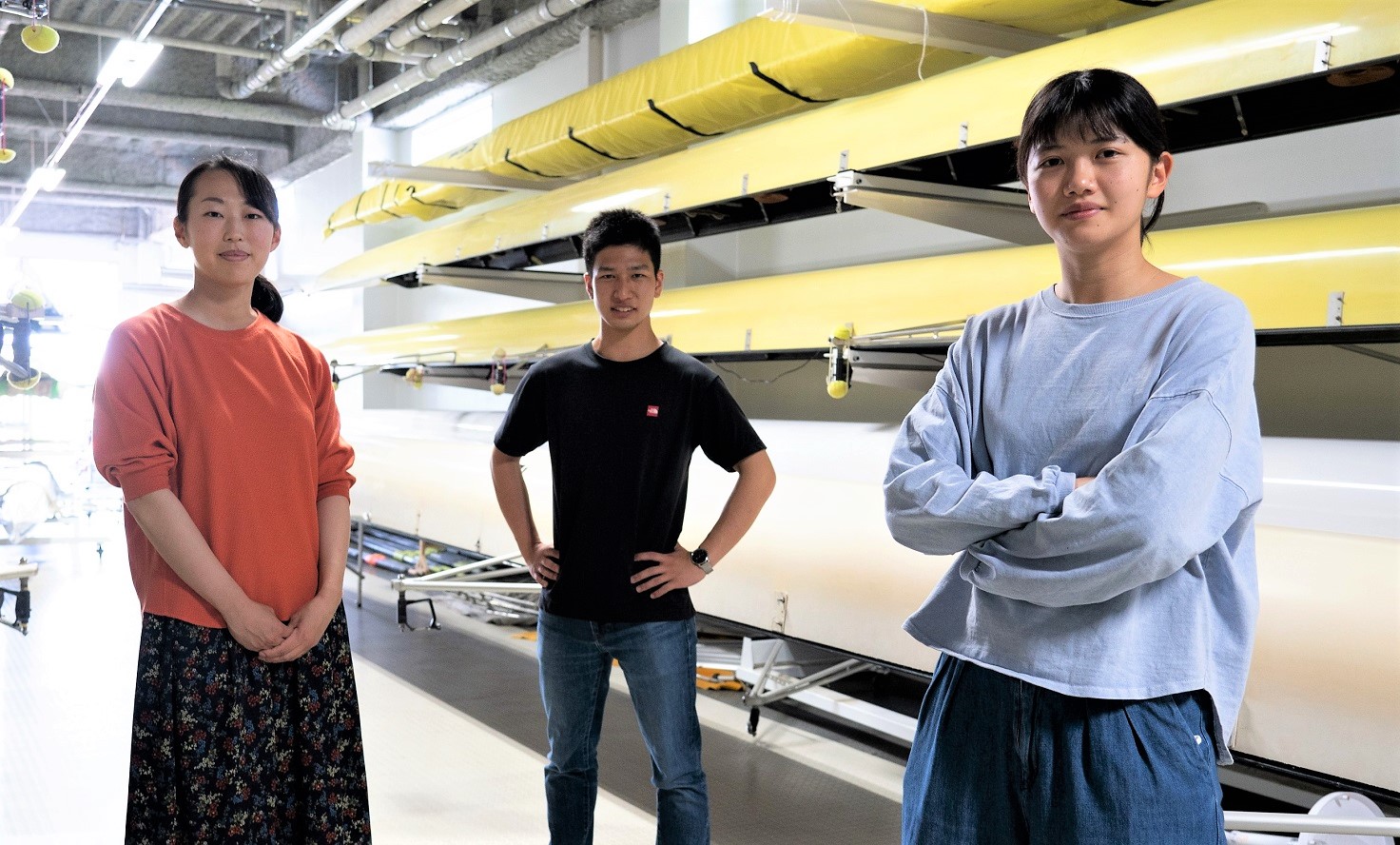 In the 2020 Intercollegiate Rowing Championships, the Kobe University Rowing Club's women's coxed four finished in the Top 8 for the first time.
We asked members OKETANI Nanako and TAMURA Fumika about their experiences taking part in the 2020 Championships and the Rowing Club's usual practice sessions (Student PR Team Interviewer: NAKAO Marina, 3rd year Faculty of Law).
Competitive Rowing
What kind of competitions are there?

Oketani: First of all, there are four categories based on the number of rowers (1, 2, 4 and 8). Competition classes are also divided depending on the number of oars- in sculling, each rower has two oars, whereas in sweep rowing each rower only has one oar.
Tamura: In addition to the number of rowers, competition classes are divided as to whether or not there is a coxswain, the member who sits in the boat facing the bow. It has been said that when rowing at top speed, it feels like you are going over 100 kilometers per hour. In the 2020 Intercollegiate, we ranked in the Top 8 in the coxed four sweep boat class (a coxswain, and four rowers with one oar each).
What kind of training do you do?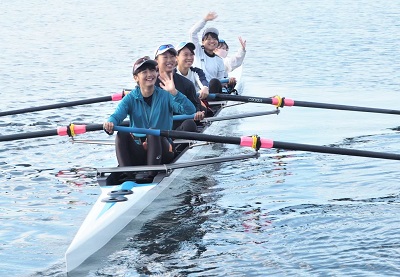 Tamura: We practise 5 times in both the morning and the evening, for a total of 10 times a week. The length of time we train varies depending on what we are practising but we usually spend about 2 hours rowing the boat on water and around 1 hour and a half doing on-land training.
Oketani: Our manager takes video of us rowing so after training we have a meeting and look at the footage.
Tamura: Rowing is a sport that requires a lot of perception. When rowing the boat, each member perceives things differently. However, we cannot move forward unless everyone synchronizes their movements. I think that in order to row the boat even faster, it is necessary for the whole team to make an effort to unify their perceptions. Therefore, we value the meetings where we can ask each other questions like 'I feel like we should do this at that point, what does everyone else think?' and compare and adjust our opinions.
Oketani: The place where we train has lodgings so before the coronavirus pandemic we would stay overnight and train. Now, we commute from our homes to the training facilities as part of the measures against infection.
What have your club activities been like during the coronavirus pandemic?
Tamura: We still train 10 times a week and when we can't use the boat, we find other things to practice.
Oketani: For about 3 months from April last year, we couldn't go to the training facilities. During that time, I maintained my physical strength by doing core training at home and going running around the neighbourhood. Also, we had frequent online meetings so that all club members could communicate with each other.
The Intercollegiate Championship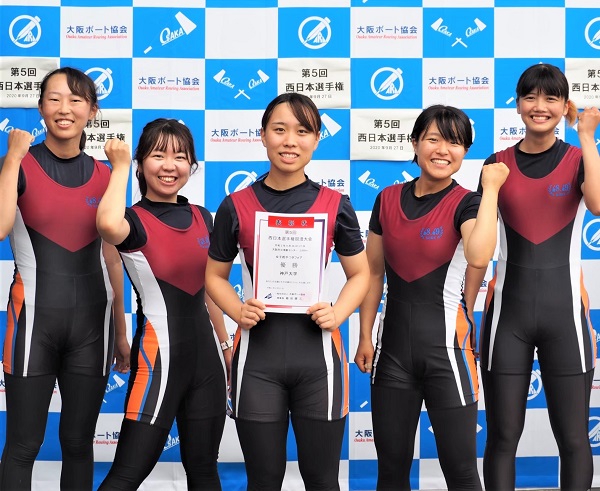 What were you conscious of during the training for the 2020 Intercollegiate?
Oketani: We recommenced regular training using the boat in August 2020 but with the Intercollegiate Championships being in October, we really had to push ourselves during this short training period. I was very anxious about all the things we hadn't been able to do during socially distanced training.
Tamura: Only one of the members of the 2020 Intercollegiate team had experience competing in a four, so I was anxious as to whether we could manage to reach the finish line. However, we can only move forward if the four of us synchronize our breathing, so we were conscious of that while training.
How did you feel when you ranked in the Top 8?
Tamura: The race that placed us in the Top 8 was to decide which teams would come in 6th to 9th. We had been in last place for the whole race right up until 200 meters before the finish line. With a last spurt of energy, we increased our speed to finish in the Top 8 by 0.4 seconds. As the race was so close I didn't realise that we had done it until I saw how happy those around me were.
What enabled you to win?
Oketani: This was the last race for one of our members before they graduated. We wanted to win the race for her and rowed our hardest even in the last 200 meters of the race. I think it is important to have the mentality of never giving up right until the very end.
Tamura: There is a big difference between 8th and 9th place. If we finished in 8th place we would get an award and become one of the Top 8. Therefore we were able to continue rowing without giving up because we really wanted to get that position.
Future Aims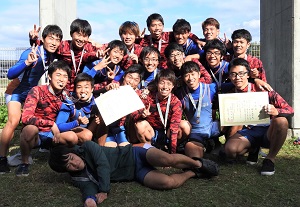 What are your future goals?
Oketani: Our goal is to finish in the Top 6 in the four event in mid-September's intercollegiate.
Finally, do you have anything you would like to say to the readers of this article?
Tamura: At first I was unsure about whether to join the rowing club because I didn't want to do something tough or tiring. However, making a decision and taking that first step can transform people. So I would like to tell everyone who is hesitating about doing something to make the decision and then channel all your effort into it.
Oketani: There is a free atmosphere at university where you can try taking on all kinds of challenges. I chose to do so through this club but I think there are many other ways that you can challenge yourself at university. I would like everyone to broaden their interests and find something they want to do.
To find out more, please visit the Kobe University Rowing Club website (in Japanese).


This interview was previously published in Vol. 11 of the Kobe University Newsletter "Kaze" (October 2021).
(International Affairs Division)