The 4th Kobe University Academic Research and Education Forum held with The University of Western Australia
December 24, 2021
Info
Keywords: International relations, Collaborations, University partnerships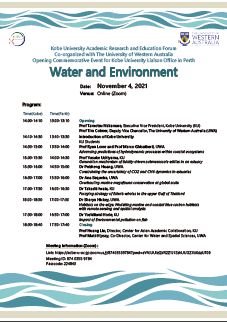 On November 4, Kobe University co-hosted the 4th Kobe University Academic Research and Education Forum (KUAREF) with The University of Western Australia (UWA).
KUAREF has been held since 2016 with the aim of bolstering Kobe University's image by focusing on the university's education and research activities through active collaboration with overseas partner institutions. This year's event, the fourth of its kind, was held online with partner institution The University of Western Australia, which has a campus in Perth (the capital of Western Australia), to commemorate the establishment of Kobe University's Perth Office. The Perth Office is located in the Hyogo Prefectural Government Cultural Center in Western Australia and was established in April 2020 with support from the Hyogo International Association.
The event was moderated by Professor NAKAYAMA Keisuke of the Graduate School of Engineering, and began with opening remarks from Professor Tim Colmer, Deputy Vice-Chancellor of The University of Western Australia, and Professor Tamotsu Nakamura, Executive Vice President of Kobe University. Kobe Students participating in the Global Challenge Program gave an introduction to Kobe University and also spoke about the various exchange activities with UWA that have taken place since the signing of an inter-university agreement in 2008. This was followed by seven researchers presenting their research on the theme of "Water and Environment".
An active exchange of ideas and opinions took place between researchers from The University of Western Australia and Kobe University based on their shared maritime interests. UWA boasts an extremely high level of education and research in oceanography, and Kobe University, located in the maritime nation of Japan, advances "sea"-based education and research by leveraging its strengths as a comprehensive university that owns a ship. This lively exchange was very encouraging for the future development of international collaborative research.
The forum concluded with closing remarks by Professor Matt Hipsey of The University of Western Australia and Professor Huang Ling, Director, Center for Asian Academic Collaboration of Kobe University. Following on from this forum, Kobe University will continue to promote academic exchange in Asia and Oceania.
(International Affairs Department)