Visit from the Consulate General of the Republic of Korea in Kobe
February 9, 2022
Info
Keywords: International relations
On January 21, the Consul-General of the Republic of Korea in Kobe, Mr. Yang Kee Ho, paid an inaugural visit to President FUJISAWA Masato. Consul-General Lee Dae Young, Professor HUANG Lin (Director of the Center for Asian Academic Collaboration / Graduate School of Business Administration) and Professor KIMURA Kan (Graduate School of Intercultural Cooperation Studies) also attended the meeting.
The meeting began with an introductory greeting from Consul-General Yang, who took office office in December last year. The new Consul-General was welcomed by President Fujisawa, who then spoke about his numerous visits to South Korea and his experiences of exchange with Korean universities. During the discussion, opinions were shared regarding both countries' border measures against the COVID-19 and the conduction of classes during the pandemic. Next, both parties introduced various examples of cooperation between Japan and South Korea, including academic exchanges with Kobe University's Korean partner universities and collaborations between overseas diplomatic missions and universities. Kobe University and the Consulate-General of the Republic of Korea in Kobe co-hosted the "Japan-Korea Future Oriented and Cooperation Seeking Symposium" on the theme of "Aging" in 2019. The 2nd symposium in the series was postponed due to the coronavirus, however it has been agreed that it will be held next fiscal year. The event aims to promote the discussion and sharing of ideas related to common social issues faced by the two countries. As one of the approaches to Japan-Korea cooperation, it is expected to result in the dissemination of ideas from Kobe.
This visit reaffirmed the smooth cooperative relationship between the two countries. We hope to further expand our academic exchange and regional collaborations with Korean universities and research institutes by working with the Consulate General of the Republic of Korea in Kobe.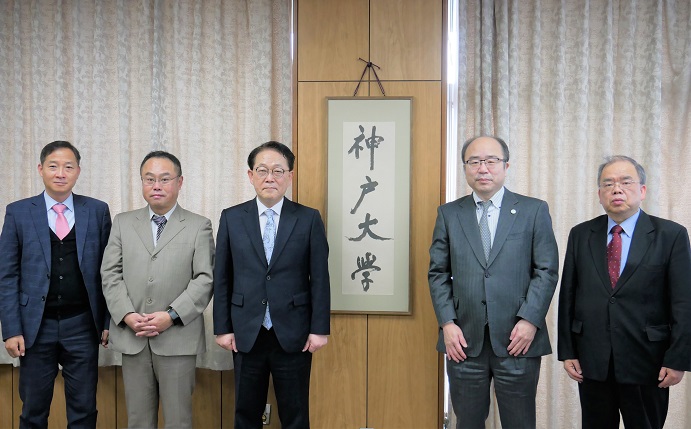 (International Affairs Planning Division)