Kobe University Liaison Office in Seattle holds inaugural symposium
March 25, 2022
Info
Keywords: Info, International relations, Collaborations, University partnerships
"The 1st KULOS Symposium for Development of the Academic Relationship between UW and KU: Past, Present and Future" was held on online on Thursday, March 3 and Friday, March 4, 2022 (PST). This was the first event held by KULOS (Kobe University Liaison Office in Seattle), which was established in April 2020 as our first liaison office located on the US mainland.
The symposium was chaired by the Executive Director of KULOS, Professor YAMAMOTO Hideyuki on the first day and began with opening remarks by Professor NAKAMURA Tamotsu (Executive Vice President, Kobe University), Professor Mari Ostendorf (Vice Provost of Research, University of Washington), Mr INAGAKI Hisao (Consul General of Japan in Seattle), and Ms KOBAYASHI Junko (Executive Director of Hyogo Business & Cultural Center). Two sessions were held: "Research in Economics" and "Research and Educational Activities in JST-sponsored ROOT Program".
The second day was chaired by Professor SHIRAI Yasuhito (Director of the Office of Americas, Kobe University) and opening remarks were provided by Professor TAKUMI Toru (Director of the Center for Cell Signaling and Medical Innovation, Kobe University) and Professor John Slattery (Vice Dean for Research and Graduate Education at the University of Washington). The third session of the symposium, "Research in Medical Science" was held on the second day.
On both days, sessions were followed by a panel discussion that fostered a lively exchange of questions, answers and opinions. The panel discussion on the second day saw wide ranging discussions on how the University of Washington and Kobe University can strengthen their partnership and there was talk of holding regular meetings in the future to facilitate exchange of young researchers as well.
The closing remarks on the second day were given by Professor Shirai. He thanked everyone who participated in and helped organize the inaugural symposium for the Seattle Office, and expressed his hopes that collaborative events like this can be held in the near future with many universities from all over the world.
The symposium succeeded in giving the participants a meaningful opportunity to share their thoughts and ideas and will contribute towards further developing the relationship between the University of Washington and Kobe University.
Kobe University will continue to hold academic events with American institutions and strengthen its exchanges and collaborations in the region.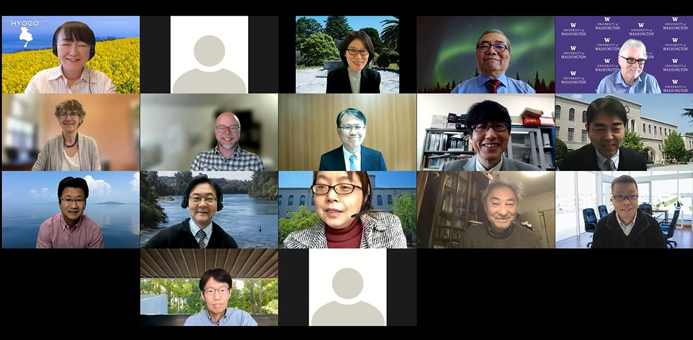 (International Affairs Planning Division)