Attention Students: We will test our new Disaster Safety Confirmation System on Friday, July 11th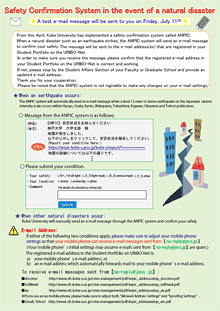 This April, Kobe University introduced a new safety confirmation system (named ANPIC). When a disaster such as an earthquake strikes, the system will send out a message to confirm your safety. The message is sent to the address registered in your "Student Personal Information" on the URIBO-Net .
To make sure you receive the message, please confirm that your registered e-mail address is correct. If not, please stop by the Student Affairs Section of your Faculty or Graduate School to update your address. Thank you for your cooperation.