[GSICS] JICA Training on "Education Finance and Administration" is being conducted in GSICS
Kobe University's Graduate School of International Cooperation Studies (GSICS) is currently conducting the Japan International Cooperation Agency's (JICA) training on "Education Finance and Administration: Focused on Basic Education Quality, Internal Efficiency, and Equity (Course Leader: Professor Keiichi Ogawa)". GSICS conducts this training in English and French twice a year, and the English course has started on June 5th and will end July 11th, 2014.
Twenty-seven Ministry of Education officers from fifteen developing countries are participating in the training. The countries are Afghanistan, Cambodia, Ethiopia, Ghana, Iraq, Laos, Malawi, Myanmar, Nepal, Pakistan, Papua New Guinea, Tanzania, Timore-Leste, Uganda, and Zambia. Three of the participants hold director-level positions in the ministry. This training is very popular, and we received more than thirty applications from the fifteen JICA Country Offices.
This training is conducted for six weeks at Kobe University and JICA Kansai International Center, and participants receive lectures and workshops from Kobe University professors and outside experts. The participants also visit the Ministry of Education, Culture, Sports, Science and Technology of Japan (MEXT), Prefectural and Municipal level Education Boards, as well as Primary and Junior High Schools. The participants will also learn the Japanese pre-service and in-service teacher training by visiting Naruto University of Education and Nara Education Research Institute. Throughout the training, the participants will be able enhance their knowledge/skills on education finance and administration and their Japanese education experience; this will enable them to promote quality, internal efficiency and equity of basic education in their countries. Training participants are expected to present action plans to improve education issues of each country and to implement the plans upon their return.
GSICS graduate students are involved in the preparation and implementation of this training, and as such they will be able to experience international cooperation in a practical manner. Moreover, this training provides them with a valuable opportunity to establish networks with the Ministry of Education officers and gain in-depth knowledge on education policies and issues in the participating countries. Professor Ogawa hopes that this training will enable the graduate students to apply what they learn for their research.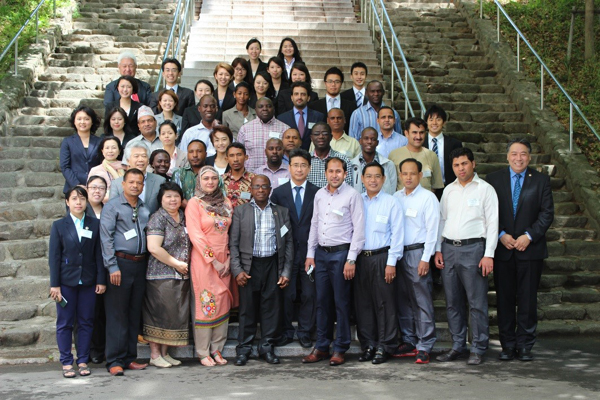 Center of the photo is Dean/Prof. Hiroyuki Tosa. Right side is Prof. Keiichi Ogawa.
(Graduate School of International Cooperation Studies)