Kobe University Hospital, together with Hyogo Prefectural Rehabilitation Central Hospital and Meiwa Hospital, Jointly Accredited as FIFA Medical Centre of Excellence
February 24, 2015
Research
Keywords: Collaborations, Centers & facilities, Medical & pharmaceutical, Leisure & sport
Three hospitals--Kobe University Hospital, Hyogo Prefectural Rehabilitation Central Hospital, and Meiwa Hospital--were jointly accredited as a Federation Internationale de Football Association (FIFA) Medical Centre of Excellence. On January 29, an official inauguration ceremony took place at Sysmex Hall in the Kobe University School of Medicine located inside Kobe University Hospital. This is the third medical unit in Japan accredited by FIFA as a Medical Centre of Excellence. It is also the first facility in Western Japan, and the forty-second in the world. The ceremony started from 9:30 a.m.
Representing FIFA, Professor Dr. Jiri Dvorak, Chief Medical Officer, attended the inauguration ceremony. Dr. FUJISAWA Masato, Director of Kobe University Hospital, represented the three hospitals and gave opening remarks.
"Established in 1995, Vissel Kobe is a professional football team in Kobe City," said Dr. FUJISAWA. "This was the year the Great Hanshin-Awaji Earthquake struck the Kobe area. Vissel Kobe represented our hopes as the team advanced alongside the people of Kobe as we recovered from the earthquake disaster," he continued.
"Since Vissel Kobe's foundation, our hospital has been engaged vigorously in providing medical support to the football team, including the dispatch of team doctors. In Japan, football is gaining widespread popularity at both the amateur and professional levels, and therefore football-related injuries are expected to rise. Taking this opportunity, Kobe University Hospital is considering further improvements to the quality of rehabilitation services we offer to patients suffering from sports-related external injuries, as well as how to best utilize doctors and staff who are specialists in sports medicine."
Dr. Dvorak presented an overview of FIFA Medical Centres of Excellence which are playing a major role not only in medical treatment but also in education and research. The official accreditation certificate for becoming a FIFA Medical Centre of Excellence was handed to Professor KUROSAKA Masahiro, Orthopaedic Surgery at Kobe University Hospital, provoking big applause from ceremony participants.
Kobe University Hospital has abundant experience in treating and researching sports-related injuries of athletes such as footballers and baseball players, from both the professionals and amateur ranks. Nevertheless, a more extensive rehabilitation system was considered necessary in order to obtain accreditation from FIFA. Therefore, Kobe University Hospital teamed up with Hyogo Prefectural Rehabilitation Central Hospital and Meiwa Hospital. The three hospitals collaborated in applying as a joint facility for FIFA accreditation. Hyogo Prefectural Rehabilitation Central Hospital, located at Akebono-cho, Nishi-ku in Kobe City, is a nationally known for its rehabilitation services to patients suffering from sports-related ligament and spinal cord injuries. Meiwa Hospital, located in Agenaruo-cho in Nishinomiya City, provides athletic rehabilitation treatment to athletes.
After the certificate was awarded, a congratulatory speech was given by Mr. HARA Hiromi, General Secretary of the Japan Football Association (JFA). "Football players who participate in major sporting competitions such as the World Cup require a medical examination," he said. "With this official accreditation, football players in Western Japan now have the advantage of receiving medical examinations in Kobe. Since there are quite a few football players who temporarily return to Japan from overseas to receive medical treatment, the establishment of a facility in Western Japan is significant."
During a session with reporters, Professor Dr. Dvorak referred to the history of football in Japan, specificially the fact that the first match ever played in the country took place in Kobe in 1888, adding that, "This became one of the deciding factors in our decision".
Medical staff at Kobe University Hospital consist of: a) thirty-nine members in the Department of Orthopaedic Surgery including faculty, staff, and senior doctors in training; b) twenty-one members including physical therapists, occupational therapists, and speech therapists; and c) three members in the Department of Rehabilitation including faculty and staff. Hyogo Prefectural Rehabilitation Central Hospital consists of eleven orthopaedists and ninety-six members including physical therapists, occupational therapists, speech therapists, and psychological assessors. Meiwa Hospital's medical team consists of seven orthopaedists and sixteen members including physical therapists, occupational therapists, and speech therapists.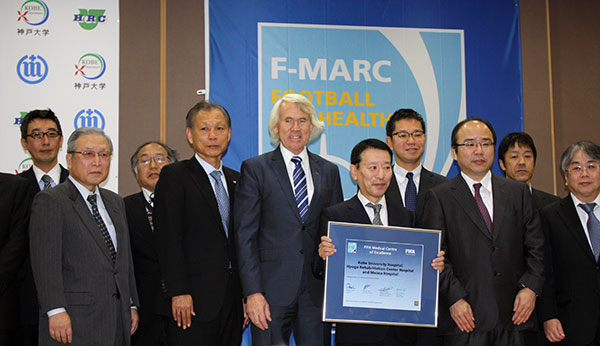 (Graduate School of Medicine, Office of Public Relations)