Organization of Advanced Science and Technology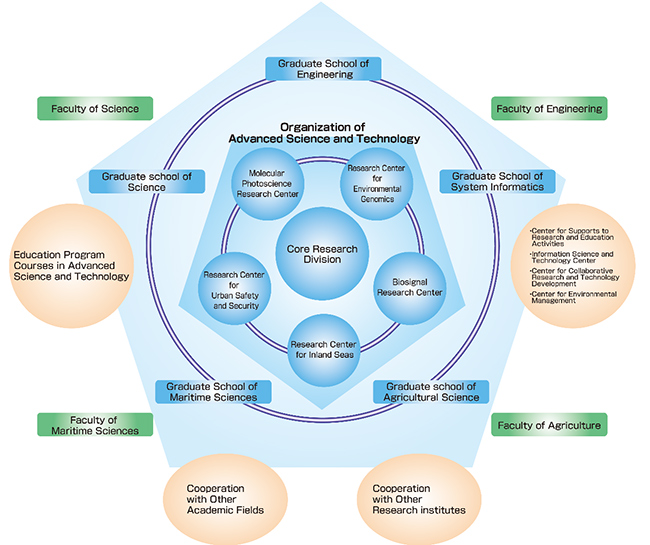 The Organization of Advanced Science and Technology (OAST) was established in April of 2007 in the reorganization of the Graduate School of Science and Technology. At the beginning, the Organization was based on four graduate schools: Science, Engineering, Agricultural Science and Maritime Sciences. The Graduate School of System Informatics was added upon its establishment in April of 2010. OAST is an interdisciplinary entity comprising a Core Research Division made up of 19 core research teams, and five associated Research Centers. Serving as a base for cooperation among the five graduate schools, OAST aims to promote frontier research in science and technology at Kobe University.


19 Core Research Teams
| | | |
| --- | --- | --- |
| NO | Research Theme | Leader |
| 1 | Geometric Aspects of Mathematics | Rossman Wayne |
| 2 | Experimental Particle Physics for Exploring Space-time Structure | KURASHIGE Hisaya |
| 3 | Molecular Systems Assembled by Non-covalent Bonds | TOMINAGA Keisuke |
| 4 | Development and Integrity of Multicellular Organisms | INOUE Kunio |
| 5 | Integrative System Between Aquatic Environments and Photosynthetic Organisms | MIMURA Tetsuro |
| 6 | Water in the Solar System: Its Origin and Role in the Planetary Evolution | TATSUMI Yoshiyuki |
| 7 | Smart Materials Science and Engineering | KITA Takashi |
| 8 | Biomaterials and Medical Engineering | MUKAI Toshiji |
| 9 | Next-generation Infrastructure | YAMAZAKI Juichi |
| 10 | Construction of Next-generation Eco-production System | OHMURA Naoto |
| 11 | Disaster Prevention and Mitigation for Earthquakes and Heavy Rain | IIZUKA Atsushi |
| 12 | Systems Design and Operational Strategy | KAIHARA Toshiya |
| 13 | A Cyber-Physical System Technology for Smarter World Realization | YOSHIMOTO Masahiko |
| 14 | Study on Rural Design toward Load Reduction and Disaster Mitigation | TANAKAMARU Haruya |
| 15 | Integration and New Horizons in Plant Health Sciences | MAETO Kaoru |
| 16 | Health Bioscience | MIZUNO Masashi |
| 17 | Studies of Signal Transduction Mechanisms for the Development of Bioresource Animals | KIKKAWA Ushio |
| 18 | Analysis of Tsunami Disaster Impact and Development of Safety Management System | NISHIO Shigeru |
| 19 | Research and Development of Marine Renewable Energy and Hydrogen Engineering | TAKEDA Minoru |
Research Centers
Research Center for Environmental Genomics
This center aims to solve global environmental issues through "Environmental Genomics," which is concerned with genes related to the interaction between the environment and organisms.
The Research Center for Environmental Genomics engages in:
Education and research by Research Center's professors
Education and research by other Kobe University faculty members using center instruments
Organization of technical training courses and seminars
Other activities (e.g. to provide recent information about recombinant DNA experiments, to support DNA/ protein sequencing and microarray experiments, and so on..)
By doing so, we hope to contribute to both education and research in Life Science.
http://www.research.kobe-u.ac.jp/rceg-nowstone/en_index.html
Biosignal Research Center
Biosignal Research Center (BRC) aims to achieve integrative understanding of intracellular signaling systems and the regulatory mechanism of various cellular functions. Four Laboratories of "Molecular Pharmacology," "Cell Signaling," "Genome Functions and Dynamics," "Membrane Biology," and one visiting laboratory of "Membrane Signaling" study fundamental biological phenomena in collaboration with excellent researchers and international companies.
http://www.biosig.kobe-u.ac.jp/en/index.html
Research Center for Inland Seas
This Research Center engages in education, research, and collaborative projects with diverse organizations on the dynamics of marine organisms and coastal environments. Inspired by our geographical location at the eastern end of the Seto Inland Sea, we focus our scientific studies on the characteristic features and functional mechanisms of enclosed seas. Our goal is to contribute to the improvement of human life and culture by developing research focused on the conservation of marine life and the environment. The KURCIS Marine Site (marine station) is located at Iwaya, on north Awaji Island, east of the Seto Inland Sea National Park, and is equipped with a dormitory and the research vessel "Onokoro." The Marine Site provides diverse educational programs devoted to the study of marine science and the coastal environment as well as support for research activities using Marine Site facilities.
http://www.research.kobe-u.ac.jp/rcis-kurcis/e.html

Research Center for Urban Safety and Security
The Research Center for Urban Safety and Security (RCUSS) was established on May 11 1996,about one year after the Great Hanshin-Awaji Earthquake. It has the important mission of contributing to the establishment of safe, secure and vibrant urban centers through the development of appropriate visions and strategies based on comprehensive research and education at the university. Reorganized in April 2006 into the three major research divisions of risk assessment, risk management, and risk communication, RCUSS has expanded its work to both 'Disaster prevention' and 'Disaster Mitigation' in order to more effectively realize the founding objective. After the Great East Japan Earthquake of 2011, individual research and site visits have been promoted, and the outcomes on mitigating disasters have been discussed through various seminars and reporting sessions, all in addition to support provided through the Kobe University earthquake reconstruction platform. Further restructuring the institution through the addition of a 'cooperative division' in 2012 to fulfill its global aim of wider regional contributions and internationalization, RCUSS is moving forward to become a center of knowledge and human resources for disaster prevention and mitigation.
http://www.rcuss.kobe-u.ac.jp/English/index-e.html

Molecular Photoscience Research Center
The 21st century is the era of light. The development of technology related to light is rapid and remarkable; and all of the techniques are based on the interaction between photons and molecules. Kobe University has made considerable contributions to molecular photoscience by means of state-of-the-art techniques. The Molecular Photoscience Research Center was founded in 2001 as one of the Common-Use Facilities of Kobe University, and it is aiming to be an international research center for photoscience.
http://www.research.kobe-u.ac.jp/mprc/about/index_e.html
Address
1-1 Rokkodai-cho, Nada-ku, Kobe 657-8501 Japan
Tel. +81(0)78-803-5332
E-mail: oast-soumu@office.kobe-u. ac.jp
http://www.oast.kobe-u.ac.jp/en/index.html
* To avoid spambots, we have inserted a space before "ac.jp". Please delete the space when you email us.