Briefing session for CAMPUS Asia Plus Program Application, Korea University (Fall 2023)
September 28, 2023
Event
Keywords: Event, University partnerships, Grants & funding, Students, Education
CAMPUS Asia Plus Program is calling for applicants who wish to study at the Korea University Graduate School of International Studies (KU GSIS) from February 2024. The application period is from October 2nd to 11th, 2023.
CAMPUS Asia Office will organize an application briefing session on October 2nd, 2023 Monday. No registration is required so please feel free to come along. The debriefing session by the students who have completed the program will follow after this.
Please refer the newest Application Guidelines available at Kobe University Global Education Management System (GEMs) or contact to CAMPUS Asia Office for the application form. 
Briefing Session Details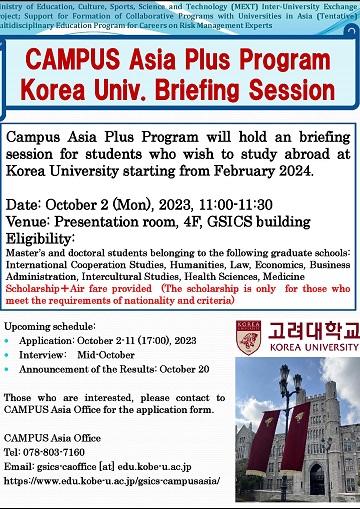 Date
October 2, 2023 (Monday), 11:00-11:30
*The debriefing session: 11:40-13:10
Venue
Presentation room, 4th floor of Kobe University's Graduate School of International Cooperation Studies (GSICS) building
[No.40 on the Campus Map (Rokkodai 1st Campus)]


Eligibility 
Master's and doctoral students of Kobe University belonging to the following graduate schools
: International Cooperation Studies, Humanities, Law, Economics, Business Administration, Intercultural Studies, Health Sciences, Medicine


Upcoming schedule
Application deadline             : October 11(Wednesday) 2023,17:00
Interview                            : October 16 (Monday) 2023
Announcement of the Results: October 18 (Wednesday) 2023
*Scholarship+Air fare will be provided.
(The scholarship is only  for those who meet the requirements of nationality and criteria.)
Contact 
Kobe University CAMPUS Asia Office
2nd floor of GSICS building, Kobe University
Tel: 078-803-7160
E-mail: gsics-caoffice[at]edu.kobe-u.ac.jp


(Graduate School of International Cooperation Studies)