Graduate School of Humanities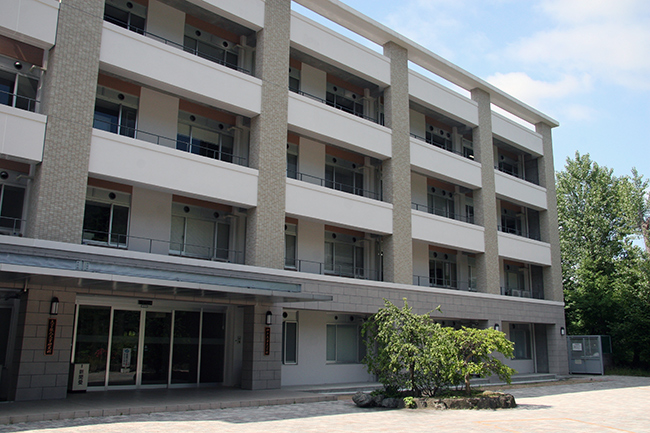 At a glance
520

Undergraduates enrolled

199

Graduates enrolled

103

International students enrolled

57

Faculty members
The Graduate School of Letters and the Graduate School of Humanities and Social Sciences were reorganized in 2007 to form the Graduate School of Humanities. This five-year program (two years for Masters, and three years for Doctors) is aimed at fostering experts who can contribute to the drastically changing modern society and the global community with their expertise in humanities.
The Graduate School of Humanities reorganized its departments into two parts, one to concentrate on their respective disciplines, and the other to provide more comprehensive knowledge.
We prepared an environment that will promote world-class level special research for students and the teaching staff by arranging the areas according to the disciplines.
We made some common subjects prerequisites for all students to allow them a chance to work with people outside of their realm of study. This is to give them a chance to look at their respective disciplines more objectively, and ultimately to help them realize their social mission.
Master's and Doctoral Program
Human Cultural Studies
Philosophy / Literature
Philosophy
Ethics
Japanese Language and Literature
Chinese and Korean Literature
British and American Literature
European Literature
Human Social Dynamics
History / Cognitive Studies / Socio-Cultural Studies
Japanese History
Asian History
European and American History
Psychology
Linguistics
Art Theory
Sociology
Art History
Geography · Cultural Resources
Address
1-1 Rokkodai-cho, Nada-ku, Kobe 657-8501 Japan
Tel. +81(0)78-803-5591
E-mail: lkyomu@lit.kobe-u.ac.jp
http://www.lit.kobe-u.ac.jp/english/
* To avoid spambots, we have inserted aspace before "ac.jp". Please delete the space when you email us.