Visit from the Embassy of Romania
May 17, 2022
Info
Keywords: International relations
On May 11, President FUJISAWA Masato welcomed a visit from the Ambassador Extraordinary and Plenipotentiary of Romania in Japan, His Excellency Mr. Ovidiu DRANGA. Their meeting was also attended by Minister-Counselor Teodor LUPASCU, Secretary Silvia CERCHEAZA, Kobe University's Executive Vice President NAKAMURA Tamotsu (Director of the Institute for Promoting International Partnerships), YOSHIDA Ken-ichi (Executive Director of the Europe & Africa Division / Professor of the Graduate School of Science, Technology and Innovation) and IMURA Takashi (Director of the International Department).
President Fujisawa gave a welcoming address and outlined Kobe University's academic collaborations with Romanian universities, in particular those facilitated through the Kobe University and Babeș-Bolyai University International Collaboration Centre, located in Cluj-Napoca.  Ambassador Dranga explained that Romania is focusing its resources on developing innovation ecosystems and information technology. He also expressed hopes of strengthening inter-university exchanges between Romania and Japan, and discussed the possibilities for expanding academic exchange with Kobe University.
Prior to this, the ambassador had a meeting with Kobe University students from Romania, during which they engaged in friendly conversation. Afterwards, Ambassador Dranga also met with Professor YOSHII Masahiko (Graduate School of Economics) and Professor KARASHIMA Masato (Graduate School of Intercultural Studies), who have strong ties to Romania.
 Kobe University has already established fruitful partnerships with Romanian universities and hopes to further strengthen these collaborations.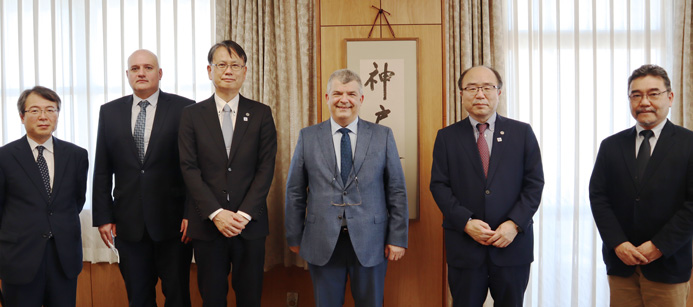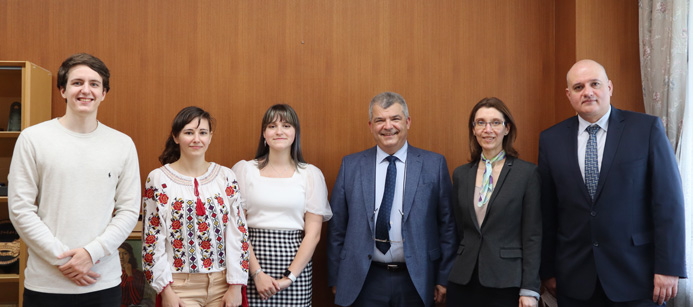 (International Affairs Planning Division)