Kobe-Illinois 2nd Online Seminar in Engineering Biology was held
February 9, 2023
Info
Keywords: International relations, Students
On January 26, the Kobe-Illinois 2nd Seminar in Engineering Biology was held online. This webinar was the second in a series organized by Kobe University Engineering Biology Research Center (EGBRC) since October last year as a part of its joint research activities with the University of Illinois Urbana-Champaign (Illinois, USA). The series provides young researchers with opportunities to present and discuss their latest research.
The webinar began with an opening address from Professor HASUNUMA Tomohisa (the EGBRC's director), in which he thanked Professor Yong-Su Jin (assistant professor of Institute for Genomic Biology, Illinois) for his research visit to the EGBRC in November, 2022. Two young researchers from EGBRC and Illinois gave presentations. Over forty participants from the two universities engaged in a lively discussion about the presented research methodologies and results, which was moderated by Dr. KATO Yuichi (project assistant professor of the Graduate School of Science, Technology and Innovation, Kobe University). In closing the event, Professor Jin shared a video and memories of his research exchange in Kobe, giving participants more insight into the international collaboration. 
Since its establishment in 2018 as the only Japanese research center in the field, the EGBRC has been taking the initiative in establishing a global engineering biology network. The center's international joint research project was awarded the Kobe University Strategic International Collaborative Research Grant (Type B: Fostering Joint Research) in 2022. Prof. HASUNUMA also introduced Research & Development Manager ANNO Eri at the event, explaining that Kobe University's Office of Research Management is supporting the awarded project, which includes the EBBRC-Illinois collaboration. The EGBRC will continue to expand its networks in its move towards becoming an international research hub in this interdisciplinary field.
Program (January 25 (US), 26 (JP), 2023)  
(US) 19:00-19:05

(JP) 10:00-10:05

Opening remarks:

Prof. HASUNUMA Tomohisa

(US) 19:05-19:35

(JP) 10:05-10:35

Presentation 1:

"Quantitative understanding of redox and metabolic maintenance mechanisms in photosynthetic organisms "

Dr. TANAKA Kenya, Assistant professor

(US) 19:40-20:10

(JP) 10:40-11:10

Presentation 2:

"Biosynthesis of plant-derived styrylpyrones in Yarrowia lipolytica using engineered 2-pyrone synthase "

Mr. Sangdo Yook, Graduate student

(US) 20:10-20:15

(JP) 11:10-11:15

Closing remarks:

Prof. Yong-Su Jin
Related Links:
Kobe University's research highlights (Bioengineering)
Kobe University Engineering Biology Research Center (EGBRC)
Kobe University Strategic International Collaborative Research Grant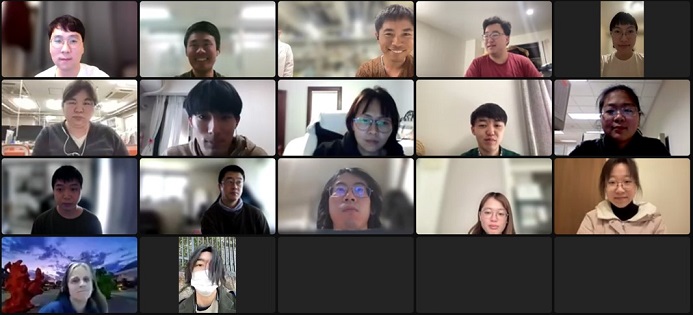 (Engineering Biology Research Center, Office of Research Management)