Visit from the Consulate General of the Republic of Korea in Kobe
March 22, 2023
Info
Keywords: International relations
On February 22, the Consul-General of the Republic of Korea in Kobe, Mr. Lee Sangryol, paid an inaugural visit to President FUJISAWA Masato. Consul-General Lee Dae Young, Secretary Cheol-Hong Kim, Kobe University's Executive Vice President NAKAMURA Tamotsu (Director of the Institute for Promoting International Partnerships), Professor HUANG Lin (Director of the Asia & Oceania Division / Graduate School of Business Administration) and IMURA Takashi (Director of the International Department) also attended the meeting.
The new Consul-General was welcomed by President Fujisawa, who then spoke about his numerous visits to South Korea and his experiences of exchange with Korean universities and hospitals. President Fujisawa also expressed his desire to continue to deepen academic exchange with Korean universities.
Consul-General Lee indicated his willingness to increase the number of personnel exchanged at various levels, such as students and faculty members between Korean universities and Kobe University. He also stated that he hopes to organize opportunities for opinion exchanges and cultural exchange between Korean and Japanese university students, as he senses a tailwind in Japan-Korea relations now that the number of international flights and Korean passengers are approaching pre-pandemic levels. In terms of academic exchange, he mentioned that many Korean scholars wish to see active exchange taking place between the two neighboring countries who share universal values, and stated that he would like to support such efforts.
We hope that this visit will result in a closer cooperative relationship with the Consulate General of the Republic of Korea in Kobe and allow us to expand exchange activities with Korean universities.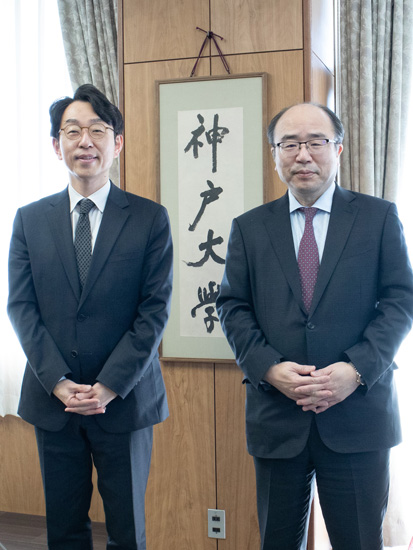 (International Affairs Planning Division)