Visit from the Embassy of Turkmenistan
May 17, 2023
Info
Keywords: International relations
On May 8, President FUJISAWA Masato received a visit from the Ambassador Extraordinary and Plenipotentiary of Turkmenistan to Japan, His Excellency Atadurdy Bayramov.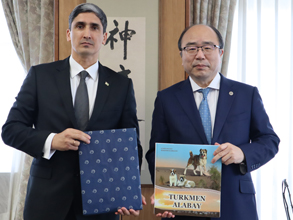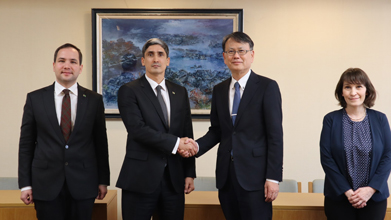 Ambassador Bayramov was first welcomed by President Fujisawa, and then had a meeting with Kobe University's Executive Vice President NAKAMURA Tamotsu (Director of the Institute for Promoting International Partnerships). Their meeting was also attended by the Embassy's Second Secretary Guvanchmuhammet Yazmammedov and Kobe University's Associate Professor HANADA Eva (Institute for Promoting International Partnerships).
Vice President Nakamura began by welcoming the visitors. Ambassador Bayramov explained that many young people in Turkmenistan were studying Japanese and that a lot of Japanese companies were operating in Turkmenistan. He expressed his desire to further develop cooperation between higher education institutions and universities in Turkmenistan and Japan.
It is hoped that this visit will result in an opportunity to promote academic cooperation between the two countries.
(Global Engagement Division)