Visit from the Consulate General of the Socialist Republic of Vietnam in Osaka
September 20, 2023
Info
Keywords: International relations
On September 8, the Consul General of the Socialist Republic of Vietnam in Osaka, Mr. Ngo Trinh Ha, paid a visit to President FUJISAWA Masato.
Their meeting was also attended by the following people: Tran Thanh Tung (Consul, Head of Office of Science and Technology), Kobe University's Executive Vice President OHMURA Naoto, Professor NAKAZAWA Minato (Director, Asia & Oceania Division), Program Associate Professor IKEMURA Akiko (Career Center) and Associate Professor HANADA Eva (Institute for Promoting International Partnerships).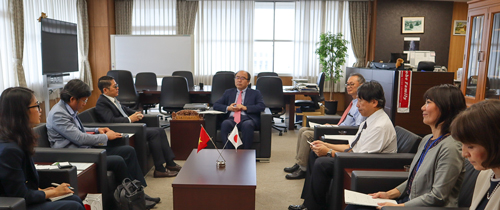 Consul General Ngo Trinh Ha mentioned that while the mobility between the two countries was impacted by the COVID-19 pandemic, it has smoothly resumed since this May.
He also noted that the number of Vietnamese students studying in Japan has increased more than ten times compared to the period from 1999 to 2005, when the Consul General himself was a student in Japan, and remarked that Kobe University graduates play an active part in the Vietnamese central government offices.
Consul Tran Thanh Tung expressed his hope of expanding the mutual academic exchange towards more joint research collaboration in science fields such as medicine, environment, and biotechnology.
President Fujisawa expressed his delight at the success of Kobe University graduates in Vietnam, and his intention to deepen the academic collaborations between the Vietnamese and Japanese academic institutions.
It is hoped that this visit will result in an opportunity to promote further academic cooperation between the two countries.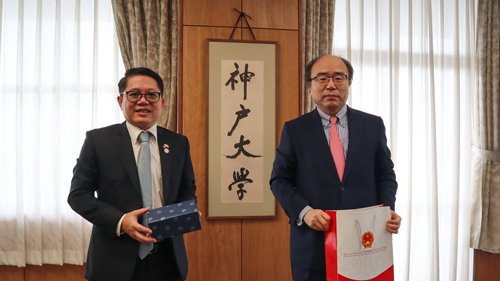 (Global Engagement Division)