Kobe-Illinois 4nd Online Seminar in Engineering Biology was held
October 19, 2023
Info
Keywords: International relations, Students
On October 17, the Kobe-Illinois 4th Seminar in Engineering Biology was held online. This webinar was the last in a series organized by Kobe University Engineering Biology Research Center (EGBRC) since last October as a part of its joint research activities with the University of Illinois Urbana-Champaign (Illinois, USA). The series provides young researchers with opportunities to present and discuss their latest research.
It began with an opening address from Professor HASUNUMA Tomohisa (the EGBRC's director) followed by two presentations given by researchers from EGBRC and Illinois. Over forty participants from both universities engaged in a lively discussion about the presented research methodologies and results, with moderation by Dr. BAMBA Takahiro, a project assistant professor at EGBRC. The event concluded successfully with closing remarks from Professor Yong-Su Jin (professor of Institute for Genomic Biology, Illinois)
Since its establishment in 2018 as the sole Japanese research center in this field, the EGBRC has been taking the initiative in establishing a global engineering biology network. In 2022, the center's international joint research project with overseas partners, including Illinois, was awarded the Kobe University Strategic International Collaborative Research Grant (Type B: Fostering Joint Research).
Program (October 16 (US), 17 (JP), 2023)  
(US) 19:00-19:05

(JP) 9:00-9:05

Opening remarks:

Prof. HASUNUMA Tomohisa

(US) 19:05-19:35

(JP) 9:05-9:35

Presentation 1:

"SIL and ecology based (secondary) metabolomics for natural products discovery "

Dr. Shumpei Asamizu

(US) 19:40-20:10

(JP) 9:40-10:10

Presentation 2:

"Harnessing Endogenous Type II-A CRISPR System to Enable Genome Editing in Lactocaseibacillus rhamnosus GG "

Ms. Zifan Xie

(US) 20:10-20:15

(JP) 10:10-10:15

Closing remarks:

Prof. Yong-Su Jin
Related Links:
Kobe University's research highlights (Bioengineering)
Kobe University Engineering Biology Research Center (EGBRC)
Kobe University Strategic International Collaborative Research Grant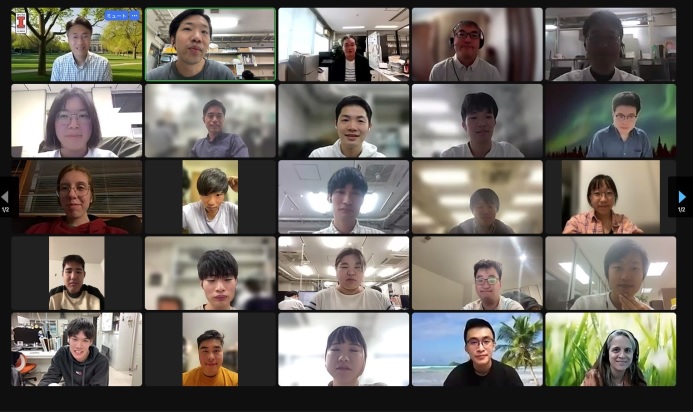 (Engineering Biology Research Center, Office of Research Management)