Complex problems require interdisciplinary minds: Introducing the Kobe University Interdisciplinary Master Program (KIMAP)
November 2, 2023
Info
Keywords: Info, Students, Education, Social sciences, Business management, Economics, Law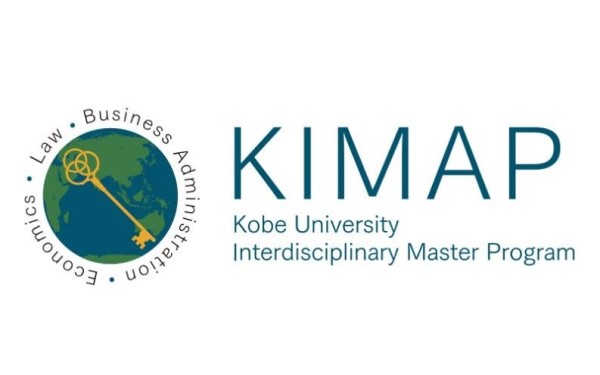 Society's current challenges cannot be solved from the viewpoint of one discipline alone. The Kobe University Interdisciplinary Master Program (KIMAP) was designed in collaboration between the Graduate School of Law, the Graduate School of Economics and the Graduate School of Business Administration with the objective of providing students with an interdisciplinary, international perspective to tackle even the most complex social issues. On its new website, the program introduces itself to those ambitious to take on the challenge.
"KIMAP is a very unique master's program that emphasizes interdisciplinary education in business, economics, and law. KIMAP welcomes students not only from Japan but from all over the world, valuing international camaraderie as the program's norm. Further, we invite prominent researchers in the fields of business, economics, and law to Kobe University every year to give intensive lectures so that KIMAP students will have a precious opportunity to access cutting-edge knowledge. Thanks to these features, KIMAP is a truly unique program, unparalleled in Japan and perhaps in Asia as well," says MIYAO Ryuzo, dean of the Graduate School of Economics.
The students will belong to one of the three graduate schools that offer the program but will also have the chance to attend courses offered by the other graduate schools to tackle current issues transcending the boundaries between disciplines. Students enrolled in the program will not only obtain a Master's degree from the graduate school they belong to, but will also receive a certificate attesting that they successfully completed the program in the specialization field of their choice. Classes are provided in English so that Japanese and international students can meet and exchange ideas while working together toward a common goal.
Kobe University has a long history spanning over 120 years. Its roots can be traced back to the Kobe Higher Commercial School that was established in 1902. "Our legacy as the birthplace of management studies in Japan is unrivaled. Our exceptional faculty covers a wide range of disciplines, igniting industry ties and conquering challenges with creative insights. With a longstanding MBA program, our network is fortified," explains KOKUBU Katsuhiko, dean of the Graduate School of Business Administration.
The program goes beyond theory, providing students with opportunities to apply their knowledge in real-world scenarios. By incorporating advanced training and workplace experience into the curriculum, we ensure that students develop the practical skills and hands-on expertise necessary to excel in their chosen field. As they progress through the program, they will have the flexibility to tailor their education to align with their passions and career goals.
"The university boasts a high faculty-to-student ratio. Our dedicated academic advisors provide support for students to attain their goals. The picturesque Rokkodai campus overlooks Kobe Harbor and Osaka Bay. Our friendly learning environment welcomes ambitious students from around the world. We look forward to seeing you in Kobe," says KURUSU Kaoru, dean of the Graduate School of Law.
If you are interested in KIMAP, find out more about the individual branches of the program on the new program website (link below).
The Kobe University Interdisciplinary Master Program (KIMAP)
(The Graduate School of Law, the Graduate School of Economics and the Graduate School of Business Administration)