PFN's MN-3 Tops Green500 List of World's Most Energy-Efficient Supercomputers for Second Time
July 1, 2021
Graduate School of Science
Deep learning supercomputer MN-3 achieves energy efficiency of 29.70 Gflops/W, breaks previous record by 14.05% with improved software and optimized system
TOKYO – June 28, 2021 – Preferred Networks, Inc. (PFN) and Kobe University announced today that MN-3, PFN's deep learning supercomputer, has achieved an energy efficiency of 29.70 gigaflops-per-watt (Gflops/W) and topped the latest Green500 list of the world's most energy-efficient supercomputers for the second time since June 2020. The new achievement exceeds MN-3's previous record of 26.04 Gflops/W. in the November 2020 Green500 list by 14.05%.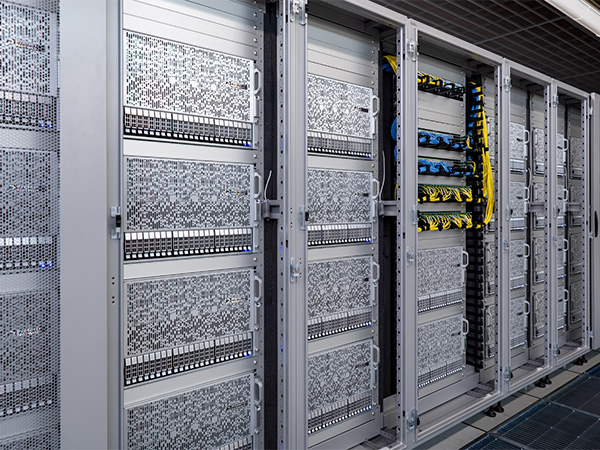 Powered by MN-Core™, a highly efficient custom processor co-developed by PFN and Kobe University specifically for use in deep learning, MN-3 started operation in May 2020 on a trial basis. Drawing on its software development expertise, PFN continuously improved MN-3's software stack for higher efficiency and computing performance.
The system used for MN-3's performance measurement consisted of 32 nodes and 128 MN-Core processors. PFN has made improvements to the software as well as the computer system as a whole to boost energy efficiency, which resulted in a 10.25% increase in computing performance and a 14.05% increase in energy efficiency compared with the November 2020 record. MN-3's latest energy efficiency record is 40.7% higher than the June 2020 record when MN-3 topped the Green500 list for the first time with the same MN-Core processor. This achievement highlights PFN's software expertise that made maximal use of MN-Core and MN-3's potential.
In addition to improving the HPL (High-Performance Linpack) performance, PFN has made significant progress in MN-3's computing performance for practical deep learning workloads with a specialized compiler for MN-Core. PFN plans to continue improving hardware and software for MN-Core and MN-3 for their use in research and development for autonomous driving, robotics, drug discovery and more.
The comparison of systems used for measurement and their respective performance are as follows.


June 2021 (new)
November 2020
June 2020
Nodes
32
40
MN-Core processors
128
160
CPU cores
1,536 Intel Xeon cores
1,920 Intel Xeon cores
Peak performance
(theoretical)
3.138 Pflops
3.92 Pflops
HPL benchmark
1.822 Pflops
1.653 Pflops
1.621 Pflops
Energy efficiency
29.70 Gflops/W
26.04 Gflops/W
21.11 Gflops/W
Green500 ranking
#1
#2
#1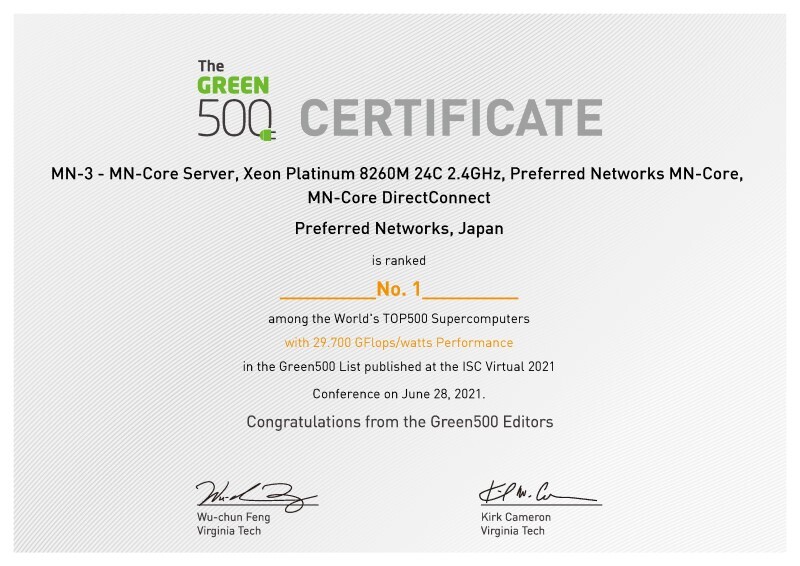 About Preferred Networks
Preferred Networks (PFN) was established in March 2014 with the goal to develop practical, real-world applications of deep learning, robotics and other latest technologies. PFN is currently focused on three priority areas – transportation systems, manufacturing and bio-healthcare – and also exploring the use of deep learning in personal robots, plant optimization, materials discovery, sports analytics and entertainment. In 2015, PFN developed Chainer™, the open-source deep learning framework. PFN's MN-3 supercomputer, which is equipped with the MN-Core™ processor dedicated for deep learning, topped the Green500 list in June 2020 and June 2021.
Chainer™ and MN-Core™ are the trademarks or the registered trademarks of Preferred Networks, Inc. in Japan and elsewhere.
Related links