PFN's MN-3 Deep Learning Supercomputer Achieves Energy Efficiency of 39.38 GFlops/W, Tops Green500 for Third Time
November 16, 2021
Graduate School of Science
Unveils plans for new processor MN-Core2 (provisional name) at SC21 conference
TOKYO and KOBE – November 16, 2021 – Preferred Networks, Inc. (PFN) and Kobe University announced today that MN-3, PFN's deep learning supercomputer, has achieved an energy efficiency of 39.38 gigaflops-per-watt (GFlops/W) and topped the latest Green500 list of the world's most energy-efficient supercomputers for the third time, following June 2020 and June 2021. The new achievement is 32.59% above MN-3's previous record of 29.70 GFlops/W from the June 2021 Green500 list. MN-3 started operation in May 2020 on a trial basis. It is powered by MN-Core™, a highly efficient custom processor co-developed by PFN and Kobe University specifically for use in deep learning.
At the ongoing SC21 supercomputing conference in St. Louis, Missouri, PFN (booth #1521) has unveiled its future plans including MN-Core's successor, provisionally named MN-Core2. PFN has begun evaluating the performance of MN-Core2's application-specific integrated circuit (ASIC) and plans to build a supercomputer equipped with the new processor in 2023.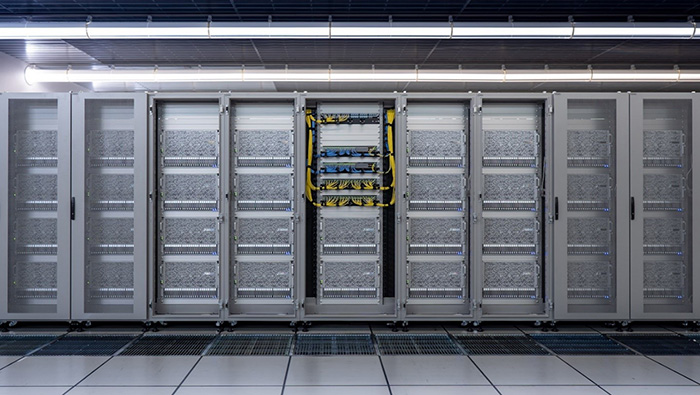 The system used for MN-3's performance measurement consisted of 32 nodes and 128 MN-Core processors. Although MN-Core's hardware has not been changed since PFN began operation in May 2020, PFN has continued to streamline the software stack and improve the interconnect between MN-Core processors, which resulted in a 19.70% increase in computing performance and a 32.59% increase in energy efficiency compared with the June 2021 record.
In addition to improving the HPL (High-Performance Linpack) performance, PFN has made significant progress on MN-3's computing performance for practical deep learning workloads with a specialized compiler for MN-Core. PFN plans to continue improving hardware and software for MN-Core and MN-3 to enable them to be used in various research and development areas, including image recognition and materials simulation.
A comparison of systems used for measurement and their respective performance are shown in the table below:


November 2021 (new)
June 2021
November 2020
June 2020
Nodes
32
40
MN-Core processors
128
160
CPU (Intel Xeon) cores
1,536
1,920
Peak performance
(theoretical, under given measurement standard)
3.390 Pflops
3.138 Pflops
3.92 Pflops
HPL benchmark
2.181 Pflops
1.822 Pflops
1.653 Pflops
1.621 Pflops
Energy efficiency
39.38 Gflops/W
29.70 Gflops/W
26.04 Gflops/W
21.11 Gflops/W
Green500 ranking
#1
#1
#2
#1
Note: The TOP500 entry states that MN-3 has 1,664 cores. This number consists of 128 MN-Core processors, counted as one core each, and 1,536 Intel Xeon processors. MN-Core performs most of the computations for the HPL benchmark measurement.
About Preferred Networks
Preferred Networks (PFN) was established in March 2014 with the goal to develop practical, real-world applications of deep learning, robotics and other advanced technologies. PFN's business domains include transportation, manufacturing, life sciences, robots, plant optimization, materials discovery, education and entertainment. In 2015, PFN developed Chainer™, the open-source deep learning framework. PFN's MN-3 supercomputer, which is equipped with the MN-Core™ deep learning processor, topped the Green500 list in June 2020 and June 2021.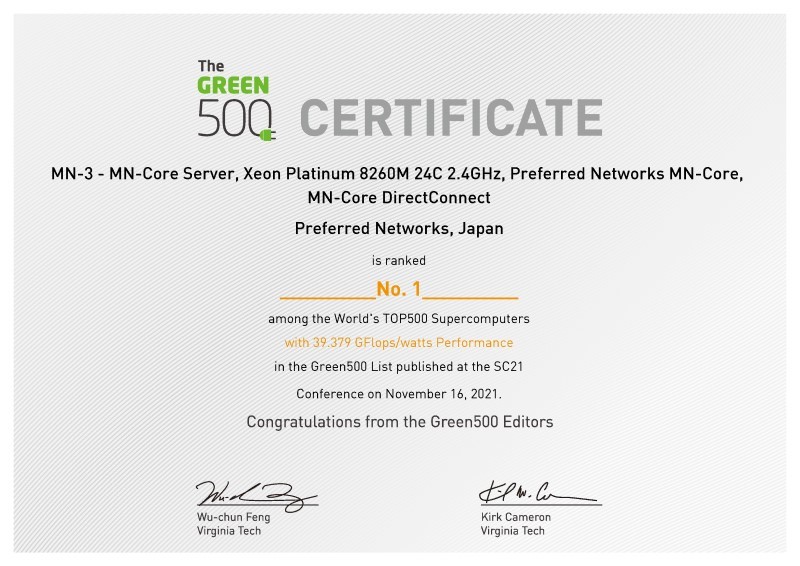 Chainer™ and MN-Core™ are the trademarks or the registered trademarks of Preferred Networks, Inc. in Japan and elsewhere.