Embarking on an entrepreneurial life, starting from the Great Hanshin-Awaji Earthquake
November 20, 2023
Faculty of Business Administration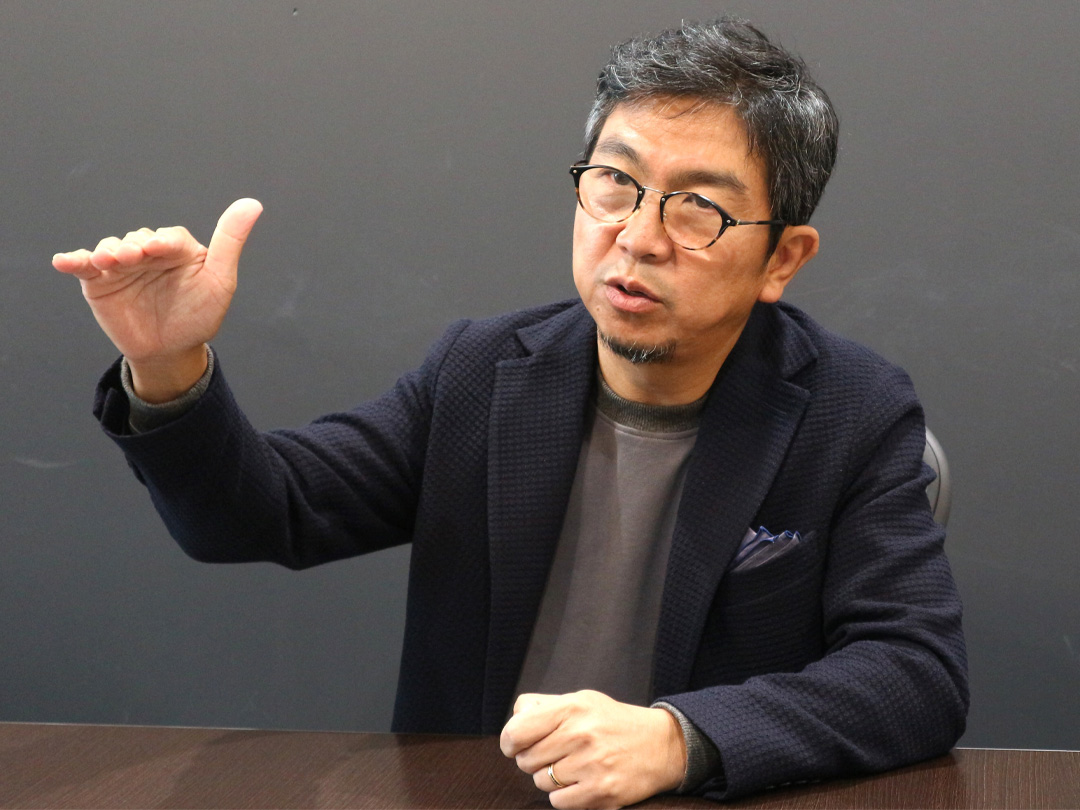 The Great Hanshin-Awaji Earthquake struck on January 17, 1995. TANII Hitoshi, the current chairman of Synergy Marketing, Inc., was in the winter of his third year at university. He lived through the experience; a friend staying in an apartment near the university was not so lucky. Tanii's friend was caught in a fire and passed away. This tragic event was a turning point for Tanii.
"I was really shocked to realize how life can be lost in an instant. I knew my friend had so many things he wanted to do in his lifetime. This made me think, I need to seize the moment and tackle the things I want to do without hesitation," says Tanii.
He rushed from his home in Osaka to Kobe and worked hard to support small evacuation shelters with supplies that otherwise would not reach these places. After a while, when things had settled down, he started working on business ideas every night with his fellow seminar students in the Faculty of Business Administration. He wanted to start something.
Growing up with parents who ran a western clothes and accessories store may have triggered his interest in business. His father expected him to be his successor. At university, he was intrigued by lectures given by entrepreneurs and asked questions every time.
After the earthquake, he actually started a student business, buying and selling unwanted textbooks. He also collaborated with students at other universities in the Hanshin area to increase the number of student "customers." Eventually, when he learned about the internet, which was just becoming more widely adopted, he began operating a portal website where students could share information, such as class cancellation schedules.
"It was a time when only few students were using the internet. We didn't gain many users. But as long as you have a connection, you can access a variety of information and can communicate with many people. It was a great experience for me to learn about the world of the internet," he says. The sprouts of entrepreneurship were beginning to show.
Resigning from NTT after nine months, pioneering IT ventures
Synergy Marketing, Inc., where he currently serves as chairman, handles cloud services related to customer relationship management (CRM) and supports companies' digital marketing. It is known as a pioneer of IT ventures in Kansai, with headquarters in Osaka and Tokyo.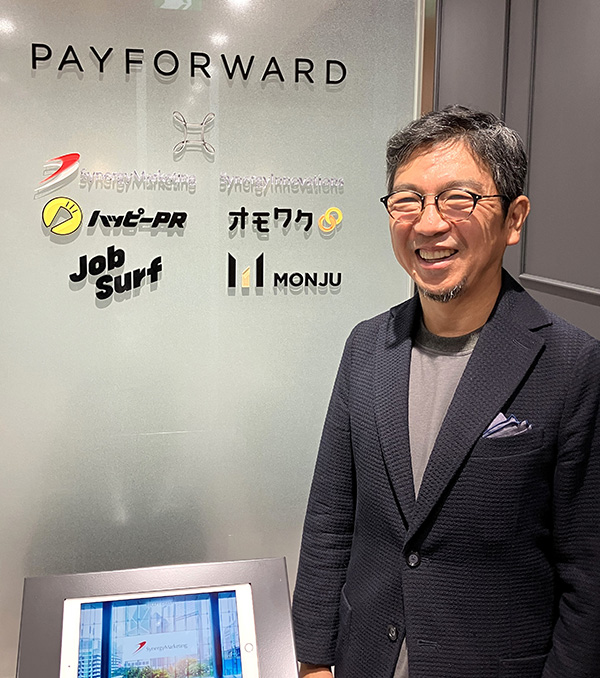 After graduating from university, he got a job. He joined Nippon Telegraph and Telephone Corporation (NTT) at the invitation of a senior from his seminar. He was assigned to the Tokyo head office and was in charge of corporate sales. However, he resigned after only nine months.
"Looking back now, it was youthful rashness. But I had a strong desire to run a business with my own effort and ability. In a large organization, it would take years for that to happen," he recalls.
He had no plans after resigning. When he returned to Osaka, he was entrusted with revamping his father's men's clothing store, which had opened in an underground mall in Umeda. Observing the age group and clothing of passers-by, he switched to a brand composition aimed at businessmen in their 30s. On the first day of the new arrangement, he lined up suits on sale and sold more than 60. This store experience became the foundation for his later developing a business in customer information management systems.
While running a men's clothing store, he was also exploring the path of entrepreneurship. He remembered a mailing list service he had learned about during his time at NTT. "If we put ads in it and offer it for free, it should spread," he felt. His entrepreneurial partners were two NTT colleagues who were also Kobe University alums. In 1997, they established a company that provided free mailing list services.
Selling a company twice, wandering overseas in his 40s
The journey from entrepreneurship was indeed full of ups and downs. In 2000, foreseeing trends in the IT industry, he sold his company. The same year, he established a company that would become Synergy Marketing (so renamed in 2005) and went public in 2007. In 2014, he sold his company again, this time to Yahoo (Yahoo Japan Corporation), but stepped down from the front line in January 2017.
"I became president of a subsidiary and realized that I'm not someone who can work under someone else's command," Tanii reflects on his decision to step down from Yahoo. "I had been working without a boss until my mid-40s. I also felt like my aggressive side was disappearing. After quitting, I became idle," he laughs.
For about two and a half years after leaving Yahoo, Tanii went back and forth between Japan and the rest of the world. He visited about 50 countries, invited locals to meals, and listened to their stories. He realized that "the world seen from Japan is different from the actual world." There were worlds everywhere that did not have a U.S.-centric perspective like Japan, and China's influence was much greater than he felt in Japan.
During this recharging period in 2019, he received an unexpected proposal from his successor president at Synergy Marketing: "Is there a possibility of you buying back the company?" It was also a time when changes in Yahoo's strategy were beginning to show.
"I started the company by myself. Its employees are still working hard. I felt that if my returning to the company would move it in the right direction, it might be a good idea," he recalls. Negotiations with Yahoo went smoothly, he bought back all the shares and returned to management that year.
Not just for the own happiness, but for the happiness of society
This July, Synergy Marketing and Kobe University signed an agreement on naming rights. The learning commons in the social sciences library on Rokko-dai Campus was named "Synergy Marketing 101 Studio," and a commemorative ceremony was held.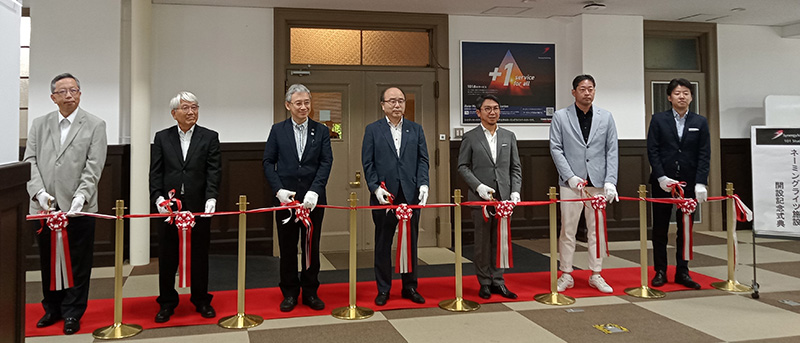 Back when he enrolled at his alma mater, he did so because he was attracted by the free school spirit. When he now heard about this opportunity from a senior at the university, he raised his hand, saying, "I would be honored if the university lets me." He also wanted his juniors to know about his company. Additionally, from prior to this agreement, he has been serving as a guest professor at Kobe University since 2020.
The message he wants to convey to students in his classes is his wish for them to live not just for their own happiness but for the happiness of society as a whole. "I think you've worked hard to get into university. But first, I want you to appreciate being born into an environment where you can study," he tells them.
Currently, Synergy Marketing is a subsidiary of Pay Forward Co., Ltd., where he serves as representative director (Osaka City). The company is investing in startups as well as in planning and development of businesses in various fields including education, environmental problems and regional revitalization. With the ambition to solve social issues at its core, it continues to support young entrepreneurs.
Tanii says, "If there's an issue that touches my heartstrings, I want to consider approaches to solving it in any field."
With gratitude for those who have supported him, he continues to explore "paying it forward" to the next generation. The entrepreneurial spirit that was nurtured in his family business, awakened by the earthquake, and sprouted at Kobe University continues unflagging.
Profile
TANII Hitoshi was born in Osaka City in 1972. He entered Kobe University's Faculty of Business Administration in 1992 and graduated in 1996. The same year, he joined Nippon Telegraph and Telephone Corporation. In 1997, he established Digital Network Service Co., Ltd. (later InfoCast Co., Ltd.) and sold it to Rakuten Group, Inc. in 2000. In 2005, he became the representative director of Synergy Marketing. In 2017, he became the representative director of Pay Forward (current position). In 2019, he became chairman of Synergy Marketing, Inc. (current position). In 2020, he became a guest professor at Kobe University (current position). His motto is "Tanin no okage, jibun no sei" (thank others when things go well; take the blame when they don't). He lives in Osaka City.