'Kobe Opportunities for EU-Japan Research Collaboration' event held in Brussels
August 1, 2022
Info
Keywords: Event, International relations, Collaborations, University partnerships
On July 5, the "Kobe Opportunities for EU-Japan Research Collaboration" event was held in Brussels, Belgium. It was jointly hosted by RIKEN and Kobe University.
Both Kobe University and RIKEN have offices in Brussels, making it an ideal location to hold this international event, which focused on "Cutting-edge computational science" and "Kobe as the place for innovative research on disaster countermeasures and resource management".
The program consisted of two sessions entitled "Kobe as a leading base for computational sciences" and "Place-based innovation through international cooperation".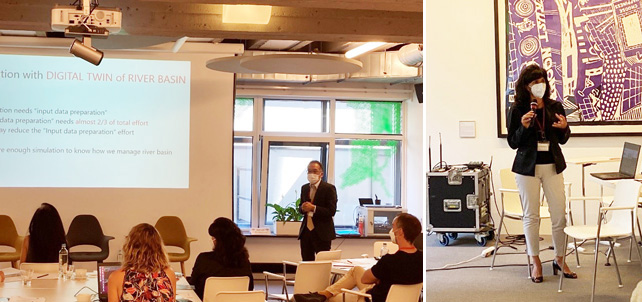 The event began with greetings from ICHIOKA Toshiyasu, director of RIKEN's Europe office, and YOSHIDA Ken-ichi, the director of Kobe University Brussels European Center and Professor of the Graduate School of Science, Technology and Innovation.
Session 1 featured presentations on the possibilities and challenges that high performance computing has brought to the biomedical field. Presentations looked at aspects such as how RIKEN's supercomputer "Fugaku" has been used to simulate the infection risks posed by COVID-19 droplet and aerosol particle transmission, as well as how machine learning and automatized workflows can improve diagnostics and treatment in Rhinology. Session 2 consisted of three presentations on the following topics: using data processing platforms to transform data for simulations of natural disasters, integrated approaches to urban water management, and the challenges of real-time tsunami forecasting in France. 
This was the first face-to-face event held by Kobe University's Institute for Promoting International Partnerships since the start of the COVID-19 pandemic. Over 40 people attended this international event, which gave participants and researchers a valuable opportunity to interact with each other.

Kobe University continues to work with its European partner universities and research institutions to enhance exchange and cooperation.
(International Affairs Planning Division)