Bioengineering collaboration: Kobe-Illinois Kick off Online Seminar held
October 31, 2022
Info
Keywords: International relations, Students
On October 21, the Kobe-Illinois Kick off Seminar was held online. This webinar was organized by Kobe University Engineering Biology Research Center (EGBRC) as a part of its joint bioengineering research activities with the University of Illinois Urbana-Champaign (Illinois).
The webinar's purpose was to provide an opportunity for young researchers to present and discuss their latest research. It began with an opening address from Professor HASUNUMA Tomohisa (the EGBRC's director) followed by two presentations given by young researchers from EGBRC and Illinois. Forty participants from the two universities engaged in an active discussion about the presentations, which was moderated by Dr. INOKUMA Kentaro (project assistant professor of the Graduate School of Science, Technology and Innovation, Kobe University). The event successfully concluded with closing remarks from Professor Yong-Su Jin (professor of Institute for Genomic Biology, llinois). 
Since its establishment in 2018 as the only Japanese research center in the field, the EGBRC has been at the cutting edge of bioengineering research in the country, aiming to spark innovation in this emerging interdisciplinary field. The center's international joint research project with overseas partners (including Illinois) was awarded the Kobe University Strategic International Collaborative Research Grant (Type B: Fostering Joint Research) in 2022. 
EGBRC and Illinois will continue to organize similar seminar series over the next three years to give young researchers opportunities to develop their research.
Program (October 20 (US), 21 (JP), 2022)  
(US) 20:00-20:05

(JP) 10:00-10:05

Opening remarks;

Prof. Tomohisa Hasunuma

(US) 20:05-20:35

(JP) 10:05-10:35

Presentation1;

"Construction of a tyrosine chassis for aromatic secondary metabolites production in Pichia pastoris"

Mr. Ryota Kumokita (Ph.D candidate)

(US) 20:40-21:10

(JP) 10:40-11:10

Presentation2;

"Metabolic engineering of Rhodosporidium toruloides for rapid and efficient utilization of xylose"

Dr. Hyun-Gi Koh

(US) 21:10-21:15

(JP) 11:10-11:15

Closing remarks;

Prof. Yong-Su Jin
Link: Kobe University Engineering Biology Research Center (EGBRC)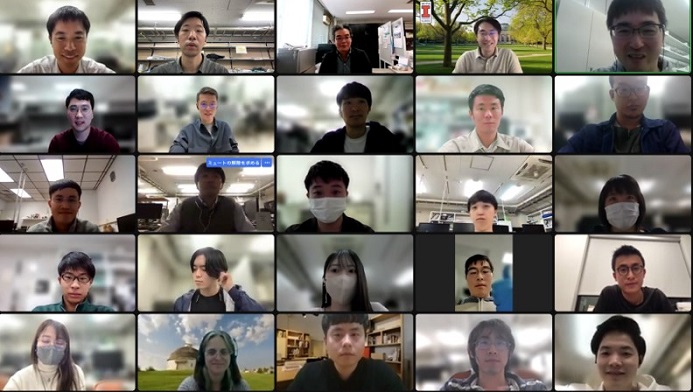 (Engineering Biology Research Center)