Message from the President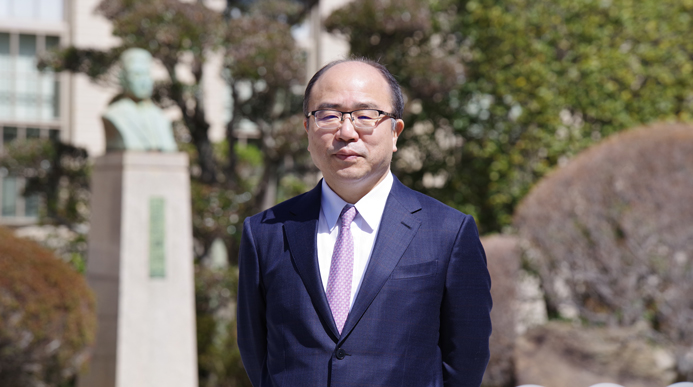 Having recently been appointed as the 15th president of one of Japan's oldest leading universities, I would like to warmly welcome you to Kobe. Located in an international port city, Kobe University constantly strives to pursue knowledge and cultivate human resources who can contribute towards society, in keeping with its ideal of fostering 'harmony between theory and reality'. Over the years, the university has produced many graduates who are active in all industries and areas of society. Furthermore, we continue to play an active role in disaster-related volunteer efforts, as an academic institution that experienced the Great Hanshin-Awaji Earthquake in 1995.
Kobe University is a comprehensive research university which currently consists of ten faculties and fifteen graduate schools with a total student population of approximately 16,000. We offer an outstanding research environment based on mutual cooperation between the natural sciences, life sciences, humanities and social sciences. As a university, research and education is our mission, and it is our duty contribute to society by utilizing and applying our continuously renowned education and research resources, conducting fundamental scientific research to seek the truth through intellectual activity and creativity, and propagating innovation through applied joint research with local society, in addition to fostering human resources through our outstanding education.
As the world moves towards a digitized, information-based society, humankind is facing various issues on a global scale that must be tackled, including problems related to the environment, poverty, human rights, peace, health and welfare. As a university, we must adapt to society and strengthen our problem-solving capacities. Nowadays, the environment surrounding Japan's national universities is constantly changing. In the midst of increasing competition among universities, we shall seek possible collaborations with other academic institutions, strengthen our engagement in joint development and collaborations with investors, industries and government bodies, strive to improve creativity in research, education and business, and attract top-level researchers from around the world. Through improving these aspects and strengthening our functionality, I hope that Kobe University will become a world-class co-creation hub for outstanding research and education.
In addition, I would like to bolster Kobe University's prestige and increase its contributions to society by promoting the global dissemination of the university's advanced multidisciplinary research and education, and by realizing the 3 pillars of development; cultivating the 'knowledge', efficient 'human resources' and outstanding 'environment' necessary for value creation and its implementation.
2022 marks the 120th anniversary of Kobe University's establishment. Mirroring the slogan of 'multidisciplinary co-creation and collaboration', all of our staff will pool their strength in order to bring about creative improvements and invigorate Kobe University's core image as a global knowledge hub that will enliven the bright societies of the future. In a changing society affected by the aftermath of the coronavirus pandemic, Kobe University will become a regional center aiding the local revitalization of the economy, culture, life, the environment and human activity, while doing our utmost to transmit information throughout Japan and the world in order to benefit global society.
I request your continued support and cooperation in these endeavors.
FUJISAWA Masato
Kobe University President