Breaking ground in genome-editing technology
October 5, 2017
Graduate School of Science, Technology and Innovation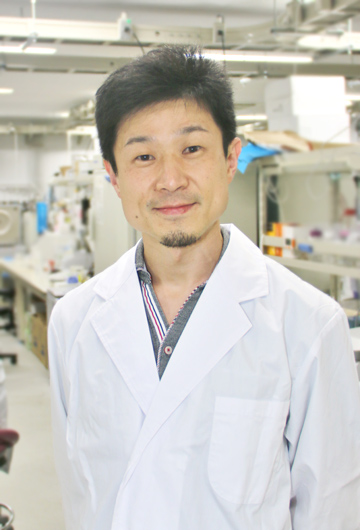 A new biotech business venture in Kobe
Genomes are the blueprints of living creatures; chromosomes and genes within all our cells encode information about life. Genome editing technology that can change these chromosomes and genes has developed rapidly. From drug development and gene therapy, improvements to crops and livestock, to creating useful microorganisms to replace petroleum, this technology has started to have a significant impact on our societies.
Professor NISHIDA Keiji (Graduate School of Science, Technology and Innovation) has developed a new genome editing technology and established a business venture based on his research findings. He is on the front lines of genome editing in both business and research.
Choosing the road less travelled
Prof. Nishida: After 5 years working on my research in the United States, I returned to Japan and realized that my home country was lagging behind in genome editing technology. Many people are involved in research that uses genome editing technology, but not so many people are researching genome editing itself. Genome editing is a tool that can impact every field related to living things. I also chose this line of research because I could see it potentially complementing other research at Kobe University.
Originally from Kobe, he obtained his PhD researching evolution on a molecular level at the Tokyo University Graduate School of Science, Department of Biological Sciences. For 5 years from 2008 he continued his research at Harvard Medical School in the United States.
Prof. Nishida: Research into evolution looks at the composition of organisms in the past. Many areas of this field have already been thoroughly covered by other researchers, so I had to specialize further. I decided that it would be a good idea to look for a different field of study, and I shifted my research focus to synthetic biology, a growing discipline in the United States. Synthetic biology can be described as the process of imitating evolution – creating living organisms. In the US I worked on research that involved adding a mechanism to yeast cells that responds to magnetic fields. Manipulating the genes effectively was a vital part of this, and I experienced a complex and frustrating process. All roads led to genome editing research.
The breakthroughs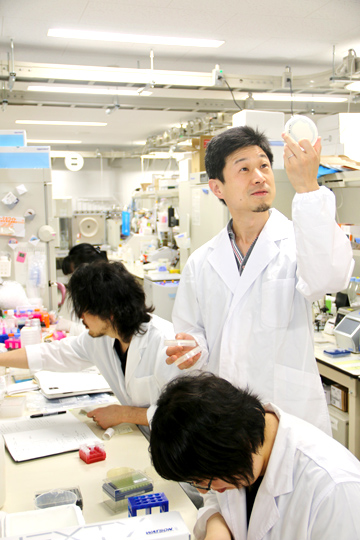 In 2013 he returned to Japan and took up his current post at Kobe University. He works with Professor KONDO Akihiko, Dean of the Graduate School of Science, Technology and Innovation, who is currently leading a research project at Innovative Bioproduction Kobe.
Prof. Nishida: I also had the options of staying at Harvard or returning to University of Tokyo, but I decided that Professor Kondo Akihiko's research team could provide the best environment for me to pursue my interests. When I started at Kobe University I hadn't decided on my research topic, so I chose to research technology development for genome editing because it was a field that could complement many of Professor Kondo's research areas.
The year before he came back to Japan, the revolutionary gene editing technology CRISPR/Cas9 was developed.
Prof. Nishida: I was very impressed by the research breakthrough. Ideally CRISPR/Cas9 slices the DNA at the target point, and the DNA repairs itself into a new altered form, but the alteration does not always go as planned, and sometimes the target cell dies of cytotoxicity. I aimed to create a genome editing technology that does not cleave DNA, and so I developed a new genome editing technology called "Target-AID" that uses a deaminase enzyme. I had been interested in deaminases since my time in the United States.
In total it took over two years from beginning the research to publishing a paper, but I established the technology over 3 or 4 months of experiments after coming up with the concept. It is comparatively easy to make a breakthrough in unexamined research fields, so I think it's important for researchers to challenge themselves by choosing newer research fields.
From research result to patent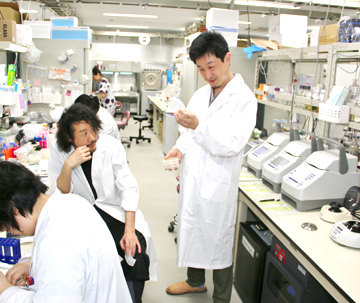 On August 5, 2016, his paper was published in the online edition of Science, and reported by many media outlets in Japan. In April of the same year, Kobe University's Graduate School of Science, Technology and Innovation opened. This Graduate School covers education and research in fields from natural sciences to business administration areas such as intellectual property rights and finance, with the aim of commercializing research findings.
This cross-disciplinary approach bore fruit in February 2017 when Professor Nishida established a business venture based on his research. His new biotech company is called "Bio Palette Co., Ltd".
Prof. Nishida: When you are putting your research results out into society, I think that in addition to publishing a paper, it's also important to demonstrate its usefulness in a way that is easy to understand, such as through a company. Ever since my stay in the United States I had been thinking about commercializing my research results, so the establishment of the Graduate School of Science, Technology and Innovation was perfect timing for me. I don't think I could have started up a business venture in such a short time at another university.
Why it has to be international
In the United States, genome editing business ventures are receiving huge sums of investments, and at the same time there are increasing disputes concerning patent rights. You have to be speedy when it comes to raising funds and creating a strategy for intellectual property rights. In May 2017, Professor Nishida received approximately 400 million yen (roughly 3.7 million dollars) of investment funds from a major fund with headquarters in Boston, USA.
Prof. Nishida: For better or worse, our technology cannot stop at the borders of Japan. We must see the overseas market as our main battleground. We have to understand the current global conditions for patents and intellectual property strategy, and it is necessary to negotiate, including alliances with overseas universities and business ventures. By working with a strong fund in the main arena of the United States, I want to create a business framework that can develop globally.
Genome editing technology can potentially be applied to many different fields, including medicine, agriculture and microorganisms. At Bio Palette Co., Ltd we have started building the business, and we are choosing our targets. I think that university professors are in very good positions to work on business ventures. I hope to continue contributing to society through both research and business.
Note
a version of this interview can also be found in Vol. 03 of the Kobe University Newsletter "Kaze": http://www.office.kobe-u.ac.jp/ipiep/publication/index_en.html
Related links