"Research is a University Hospital's Mission" Associate Professor SHIGEMURA Katsumi
March 20, 2023
Graduate School of Health Sciences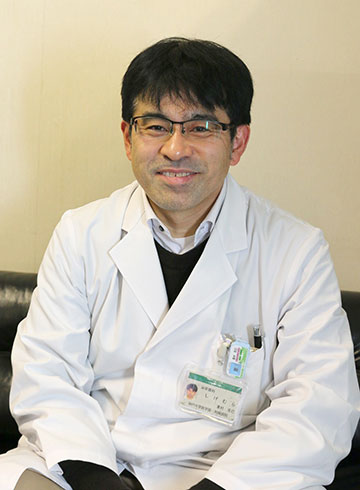 The progress of medicine and health care in Japan owes much to the efforts of university hospital physicians who are engaged in clinical practice and translational research. One of these physicians is Associate Professor SHIGEMURA Katsumi at the School of Medicine's Department of Urology, and the Graduate School of Health Sciences. His areas of expertise are the life sciences and urology. As well as providing clinical consultation and advanced treatment (including robotic-assisted surgery), he also serves as a member of multiple committees, creating treatment guidelines for infectious diseases, and conducts research to develop new anti-cancer therapies and medical devices. He has also launched a joint research project with Taiwanese scientists. We interviewed him about his passion for clinical medicine and research.
Pursuing Clinical Practice and Research
You wear two hats; performing surgeries and other clinical interventions as a clinician while engaging in research activities.
Associate Professor Shigemura: I believe that it is the mission of university researchers to pursue both clinical practice and research. Medical doctors at community hospitals treat and provide support for patients in their catchment areas. In contrast, the role of university hospitals is to develop next-generation therapies for intractable diseases and to improve the well-being of sick people around the world through the results of their research. I am working on both basic research and clinical care. I am interested in clinical therapy research because I am, by nature, a clinician.
Have you wanted to be a doctor since you were a child?

Prof. Shigemura: In high school, I was an enthusiastic American football player and wanted to go to one of the best American football colleges. After graduating high school, I spent one year preparing for entrance examinations, and I started to wonder if it was worth spending four years of school focused solely on sports. Around that time, my grandfather, who was living in Okinoerabu Island in Kagoshima Prefecture, passed away, leaving his wife alone. When I visited and saw her living with daily difficulties, I felt a surge of motivation to become a physician who supports the health and well-being of elderly people.
Contributing to Infection Treatment Guidelines
What are your specialized fields?
Prof. Shigemura: My primary specialization is infectious diseases. As director and a board member of the Japanese Society of Chemotherapy, I contributed to the development of many of its infection treatment guidelines. There are two major types of chemotherapy: anti-cancer and antimicrobial. I specialize in the latter. Recently, the growing threat of syphilis in Japan has received media attention. The Anti-Syphilis Committee of the Japanese Society for Sexually Transmitted Infections published the guidelines for syphilis prevention and control. As the chair of the committee (until December 3, 2022), I was responsible for press interviews and other public relations activities.
Every Friday, I see new outpatients with urological conditions, such as prostate cancer, prostatic hypertrophy, bladder and urinary tract infections, and urination disorders. I conduct laparoscopic surgeries and provide laser treatment for benign prostatic hypertrophy. I also conduct robotic-assisted surgeries using the da Vinci® and hinotori™ systems. To keep abreast of the latest technological developments, we proactively seek opportunities to perform robotic-assisted surgery. Dr. FUJISAWA Masato, the President of Kobe University, led the development of the hinotori™ surgical robot system. This platform provides a clear view of the surgical field. It helps minimize intraoperative bleeding when used to perform surgery on the prostate gland, an organ that is confined to the pelvis and difficult to access.
Developing Medical Devices
Under the leadership of President FUJISAWA, Kobe University is developing new medical devices through close collaboration between medical professionals and engineers.
Prof. Shigemura: We are engaged in the research and development of medical devices under the direction of President FUJISAWA, who is the overall leader of the Department of Urology at Kobe University. Currently, five development programs are in progress. Among these, the ureteral stent development program is the closest to completion. Ureteral stents are used to relieve the severe pain caused by a ureteral stone. However, they can become blocked if they remain in place for an extended period. In collaboration with the Research Center for Membrane and Film Technology's Director Dr. MATSUYAMA Hideto and Specially Appointed Professor KUMAGAI Kazuo, we are developing a non-occluding ureteral stent.
A New Prostate Cancer Therapy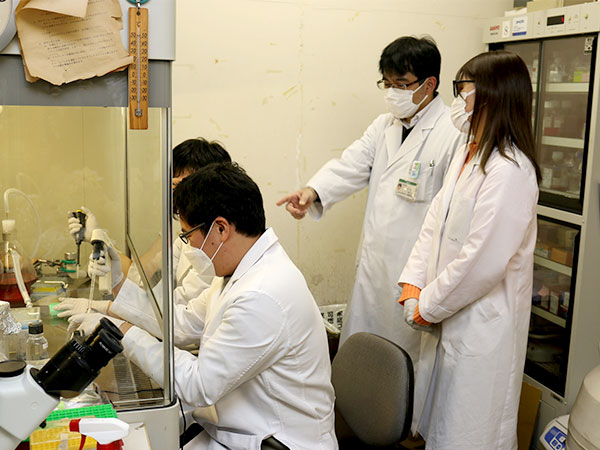 Under the Kobe University Strategic International Collaborative Research Grant program,* you have started a joint project with Taiwanese scientists.
Prof. Shigemura: Yes, the project is entitled "Establishing an Asian network to develop a novel treatment for prostate cancer." The malignancy grade and prognosis of prostate cancer vary by race and ethnicity. Prostate cancer is the first or second most common cancer among Japanese men, although it is the fifth or sixth leading cause of cancer mortality, suggesting its relatively benign prognosis. However, we often encounter inoperable cases that involve bone metastases. The purpose of this project is to discover a treatment method for refractory prostate cancer.
Normal cells are aligned in an orderly fashion, guided and maintained by cell adhesion factors. We postulate that cancer cell invasion and metastasis occur through cell–cell junction disruptions. We are interested in ADAM (a disintegrin and metalloprotease) 9, a cell adhesion factor that mediates tumor cell adhesion. We are investigating the effects of antibodies targeting this factor, with the goal of developing a monoclonal antibody therapy that prevents the disruption of cell–cell adhesion. Monoclonal antibodies that attack the same target can be synthesized in large quantities, and are therefore a promising pharmaceutical therapy.
Artificial Intelligence (AI)-Based Research of Infectious Diseases
What are the objectives of the joint project?
Prof. Shigemura: In 2004, I went to the United States to conduct a three-year cancer research project. While I was at Emory University (in Georgia), I became acquainted with a researcher from Taiwan working in the same laboratory. We have maintained a partnership since leaving Emory. During the last seven to eight years, we have continued to visit each other's laboratories and have meetings once every two to three months. He is the leader of the Taiwanese part of this project.
We expect to advance our research by exchanging the samples and data of patients from East Asian countries who share similar genetics. I believe that multiple-country studies can progress much faster and provide wider perspectives than single-country studies. The Taiwanese team includes biomedical researchers who are not engaged at the primary clinical site. They are a powerful asset to this project because they can focus fully on experiments and complete them at a pace much faster than physician-scientists who have clinical responsibilities.
We are also conducting other joint projects with Taiwanese researchers that address infectious diseases and drug-resistant bacteria. When a patient with an infectious disease visits the outpatient clinic or is hospitalized, medical doctors determine the site of infection and the causative bacteria, and based on their experience, choose the treatments they believe are best. Maximizing physicians' choice of drugs is critical for improving the lives and well-being of patients. In collaboration with Professor TAKIGUCHI Tetsuya and Associate Professor TAKASHIMA Ryoichi from Kobe University's Graduate School of System Informatics, we are developing a drug selection algorithm to maximize patient recovery and minimize treatment failure and recurrence. For this purpose, we use AI to analyze large datasets of patients hospitalized with infectious diseases, including their disease and treatment histories.
Profile
| | |
| --- | --- |
| March 1999 | Graduated from the Faculty of Medicine, Kochi Medical School. |
| March 2006 | Completed a PhD and MD at the the Division of Urology, Department of Surgery-Related, Kobe University Graduate School of Medicine. |
| May 1999 | Started an internship at the Department of Neurosurgery, Kobe University Hospital. |
| October 1999 | Started an internship at the Department of Neurosurgery, Rokko Island Hospital. |
| April 2000 | Started an internship at the Department of Urology, Kobe University Hospital. |
| October 2000 | Started working as a urologist at the Department of Urology, Nishiwaki Municipal Hospital. |
| April 2004 | Began postgraduate studies at the University of Arkansas for Medical Sciences, AR, USA. |
| October 2004 | Relocated to continue studies at Emory University School of Medicine, GA, USA. |
| April 2007 | Started practicing as a urologist at the Department of Urology, Kobe University Hospital. |
| July 2007 | Became Deputy Chief Urologist at Akashi City Hospital. |
| October 2010 | Appointed as the Chief Urologist at Shinko Hospital. |
| April 2012 | Designated as a Project Assistant Professor at the Department of Urology, Kobe University Graduate School of Medicine. |
| April 2013 | Promoted to Full Assistant Professor. |
| April 2015 | Appointed as a lecturer at Kobe University Hospital. |
| August 2016 | Promoted to Associate Professor at the Department of Urology, School of Medicine and the Division of Global Infectious Diseases, Graduate School of Health Sciences, Kobe University. |
Related Links
Prof. Shigemura's project has been approved as a Type B project under the Kobe University Strategic International Collaborative Research Grant program.
Establishing an Asian Network to develop a novel treatment for prostate cancer