Visit from the Consul General of France in Kyoto
June 29, 2022
Info
Keywords: International relations
On June 23, Mr. Jules IRRMANN, Consul General of France in Kyoto and his delegation paid a visit to President FUJISAWA Masato. 
Prior to the courtesy visit, they also met Kobe University students who had studied abroad in France. This gave the students an opportunity to talk about their experiences.
Afterwards, President FUJISAWA welcomed a visit from Consul General IRRMANN and his delegation. Their meeting was also attended by Mr. Airy QUILLERÉ, Attache of the University Cooperation at the Embassy of the French Republic in Japan, Ms. Fanny DELORME, Director of the Japan Branch of the Responsible Campus France Japon, Ms. Miho OYAGI, in charge of the Kansai branch, Kobe University's Executive Vice President NAKAMURA Tamotsu (Director of the Institute for Promoting International Partnerships), KAWAI Naruo (Director of the Global Education Center of the Institute for Promotion of Higher Education) and YOSHIDA Ken-ichi (Executive Director of the Europe & Africa Division / Professor of the Graduate School of Science, Technology and Innovation). President FUJISAWA gave an overview of the academic and research collaborations between French institutions and Kobe University before and during COVID-19 pandemic, which led to a lively exchange with Cousul General IRRMANN regarding the continuation of these collaborations.
After the courtesy visit, Consul General IRRMANN and his delegation attended the study abroad fair organized by the Global Education Center, part of the Kobe University Institute for Promotion of Higher Education. The event aimed to promote studying abroad in France by providing an up-to-date information and answering questions from the students. Approximately 40 students interested in studying in France attended the fair, including online participants.
Kobe University continues to conduct various academic collaborations with French institutions through student and research exchanges. It is hoped that these joint efforts can be further strengthened by working with French organizations, such as the French Consulate-General in Kyoto.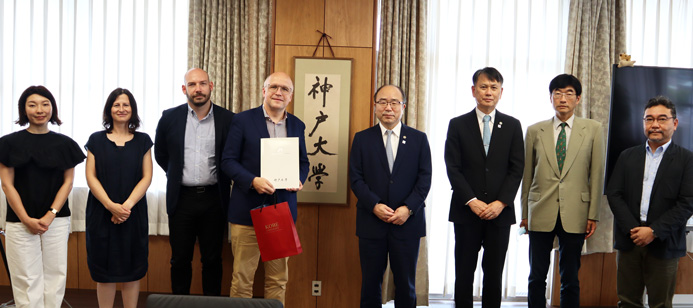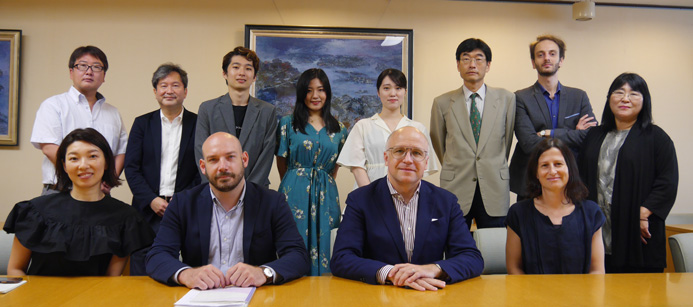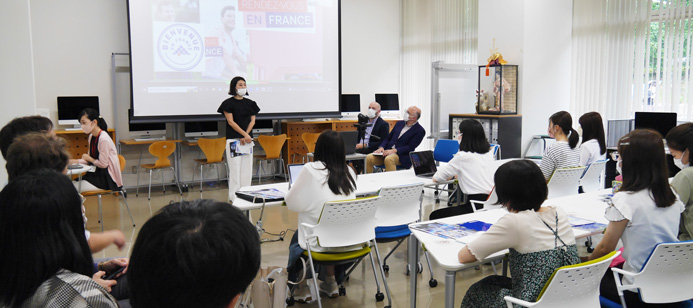 (Global Education Center, Institute for Promotion of Higher Education)
(International Affairs Planning Division)