Kobe University Libraries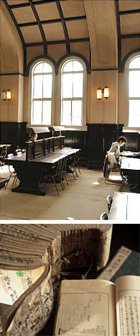 Kobe University Libraries have a collection of about 3.7 million print materials and 26 thousand titles of electronic journals to support teaching, learning and research for our students and faculty.
The Library is comprised of the General Library and 9 branches divided by subject.
(General Library and Library for Intercultural Studies are sharing the same space.)
"The Earthquake Disaster Materials Collection(EDMC) " located in the Library for Social Sciences holds over 50 thousand  materials related to the Great Hanshin-Awaji Earthquake. The EDMC is open to the public, with the aim of contributing to the development of earthquake-related research such as emergency restoration and disaster prevention measures.
In 1999, "Digital Library System " was launched. It provides digital archives including the selected materials of the EDMC, special collections, and Kobe University Repository Kernel .