Kobe University: A Global Knowledge Base that will Invigorate Future Society
November 9, 2021
Communications Division
'Co-creation' and 'Collaboration' are key
On April 1 2021, Professor FUJISAWA Masato was appointed President of Kobe University for the next 4 years. Formerly the Dean of the Graduate School of Medicine, President Fujisawa is known in Japan for his pioneering work in robot-assisted surgery for prostate cancer and kidney cancer. In addition to collaborating on numerous joint research projects, he was also involved in the development of a surgical robot made in Japan and performed the first surgery in the world that used it. We asked President Fujisawa about the responsibilities of his new position and the future image that Kobe University is aiming for.
Towards an internationally outstanding center for education and research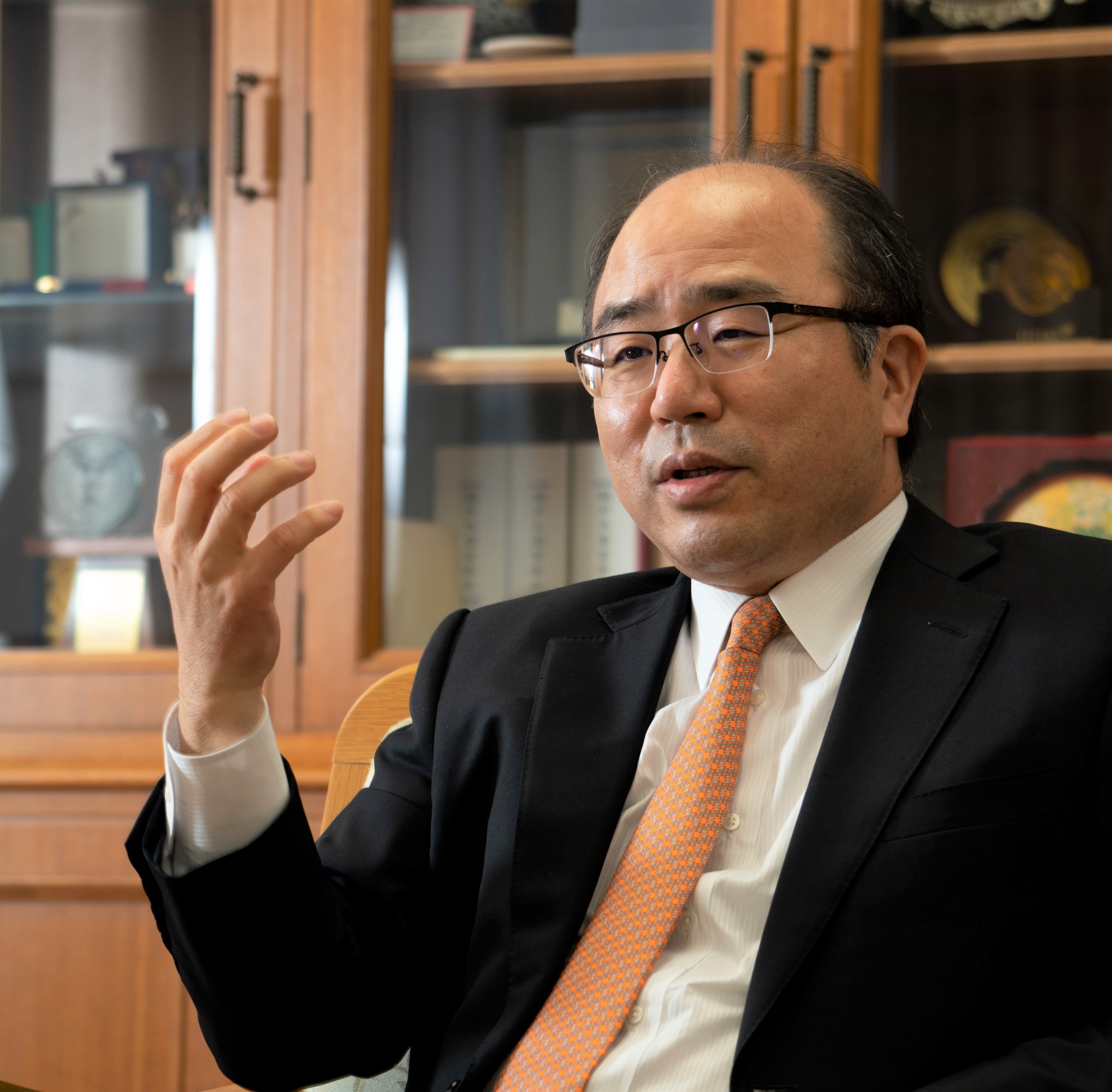 My specialization is urology in Graduate School of Medicine. Even though I wished that I could have contributed to the development of the graduate school and advanced medical care for a little longer as the dean of the Graduate School of Medicine, I was determined to devote myself to Kobe University as a whole should I have the opportunity to become president. Kobe University is my alma mater and I have an especially strong attachment to and pride in the university. I will utilize my background in research and education, as well as my experiences as director of Kobe University Hospital and dean of the Graduate School of Medicine to firmly take the lead as president in managing university operations, while considering both the university's heritage and opportunities for innovation.
Kobe University is a comprehensive university consisting of 10 faculties and 15 graduate schools. The coexistence and mutual cooperation between the humanities, social sciences, natural sciences, life and biomedical sciences has given rise to a rich environment for education and research. I believe that it is our duty as a university to contribute to society by utilizing and applying our continuously renowned education and research resources, conducting fundamental scientific research to seek the truth through intellectual activity and creativity, and propagating innovation through applied scientific joint research with local society, in addition to fostering human resources through our outstanding education.
To achieve this, we will keep an eye out for opportunities for collaboration and co-creation with other universities, investors, industries and government bodies, revolutionize creativity in research, education and business, and attract top-level researchers from around the world. Through these efforts, Kobe University will become a world-class co-creation hub for outstanding research and education.
Collaborating on research and education projects through multidisciplinary co-creation
Upon becoming president I drew up a new long-term version for Kobe University, which is to advance and develop the university as a 'global hub for the multidisciplinary co-creation of research and education.'
Drawing upon the existing strengths and distinctive characteristics of the university's various fields of research and education, we will develop Kobe University into a hub for the multidisciplinary co-creation of research and education that is capable of promoting high level collaborations and joint projects.
We will also tackle new challenges cultivating the new knowledge and invaluable human resources necessary to resolve current and future societal issues. This will enable Kobe University to meet the needs of a post-pandemic, knowledge-based digital society with a rapidly aging population.
As for research, Kobe University will become an eminent research hub by being open to joint ventures with industries, government bodies and other universities, and of course collaborations within the university. We also aim to resolve the global issues specified in the United Nations' Sustainable Development Goals (SDGs) by cultivating the knowledge and innovation required to excel in cutting-edge research and returning the fruits of these efforts to society. In addition, we will establish a resilient innovation ecosystem. This will strengthen our ability to adapt to the diverse, complex and fluid structure of post-corona society and shifts in academic direction, improve our resilience by flexibly drawing upon our persistent, continued successes, and bolster our research strengths.
Furthermore, we will take measures to provide career support and a welcoming research environment for young researchers and women researchers in order to cultivate human resources who will contribute towards research and education. In particular, we will strengthen the systems that enable outstanding students and young researchers to increase their career potential on-campus, and those that provide financial support to PhD. students and young researchers.
Education that meets the demands of globalization and digitalization
In our education, we place great importance upon fostering the diversity, internationality, excellence and adaptability that are necessary to thrive in a new sustainable society. Kobe University will maximize its knowledge resources using AI, IoT, big data analysis and fundamental information technology, producing graduates who are able to create new values and implement them into society. To this aim, Kobe University shall defy the boundaries between academic fields, collaborate with society, and promote practical learning, value creation, entrepreneurial and data science education that incorporates the knowledge, skills and techniques required for industry-government-academia co-creation.
In addition, vital aspects for improving our global outlook include strengthening our support for international education and our study abroad environment, as well as developing international exchange and joint education with prestigious universities overseas.
To foster outstanding innovators who can play an active role in digital society, we will fully realize our concept of a 'global & inclusive campus'. This involves combining a safe study environment (not only for international students but for students of all ages and backgrounds including disabled and working students) with high-quality programmes and AI/data science education.  
Establishing an innovation ecosystem by creating  the 'knowledge', talented 'human resources' and outstanding 'environment' required for value creation.
Kobe University endeavours to offer a diverse and inclusive environment in which every single member can fully contribute their respective strengths in research, education and administration. My ideal is the creation of an open university with an environment that is welcoming and comfortable for everyone.
As for initiatives for a post-corona oriented educational environment, I would like to aim towards becoming a university that transcends the boundaries of time and space to achieve harmony between real and virtual spaces. We will achieve this by establishing the infrastructure for next generation ICT education and revolutionizing digital education; including remote learning through online classes for on-campus, working and overseas students, and blended learning styles such as the 'flipped classroom' that incorporate e-learning.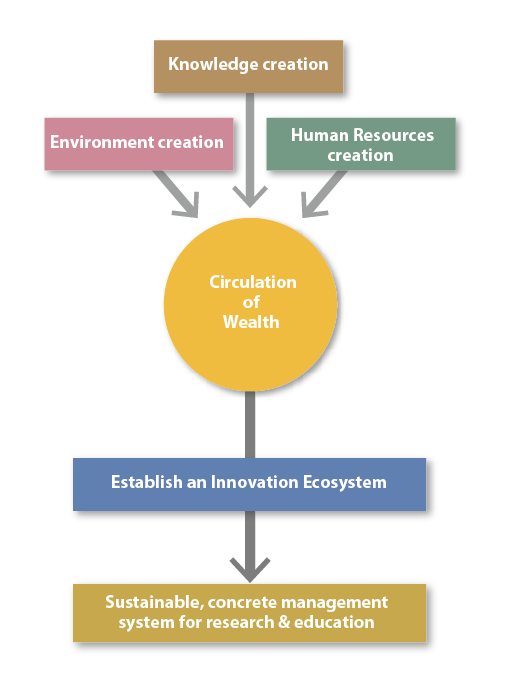 Bolstering Kobe University's prestige by contributing towards international society
In order to promote this kind of research and education, it is vital to create a pipeline through which rich research and education can flow organically, facilitating multilateral collaborations between Kobe University and its surroundings, including Kobe City, Hyogo Prefecture, the Kansai region and local industries. We will continue to make efforts towards establishing a 'Kobe platform for industry-government-academia collaborations in research and education', and promote outstanding research and education projects centred on multidisciplinary co-creation. In addition, I would like to bolster Kobe University's prestige and increase its contributions to global society by realizing the 3 pillars of development; cultivating the 'knowledge', efficient 'human resources' and outstanding 'environment' necessary for value creation and its implementation.
Kobe University is an institution that gives every student opportunities for self-development and to realize their aims and dreams. I would like for all young researchers and students to have a dream, passion and a little greed. A small amount of greed can be considered a positive thing. I would like our students turn this greed into the energy, so that when they are at a loss, they can keep moving forward without missing opportunities and triumph over adversity. I think students should challenge themselves and not impose limits on their own success. I hope that all the outstanding students admitted to Kobe University will push themselves to see how far they can go. I would like them to keep walking down their own path while receiving optimum support from the university.
Next year in 2022, Kobe University will celebrate the 120th anniversary of its establishment. Mirroring the slogan of 'knowledge, people, co-creation and cooperation', all of our staff will pool their strength in order to bring about creative improvements and invigorate Kobe University's core image as a global knowledge hub that will enliven the bright societies of the future. In a changing society affected by the aftermath of the coronavirus pandemic, Kobe University will become a regional center aiding local revitalization, while doing our utmost to transmit information throughout Japan and the world in order to benefit global society.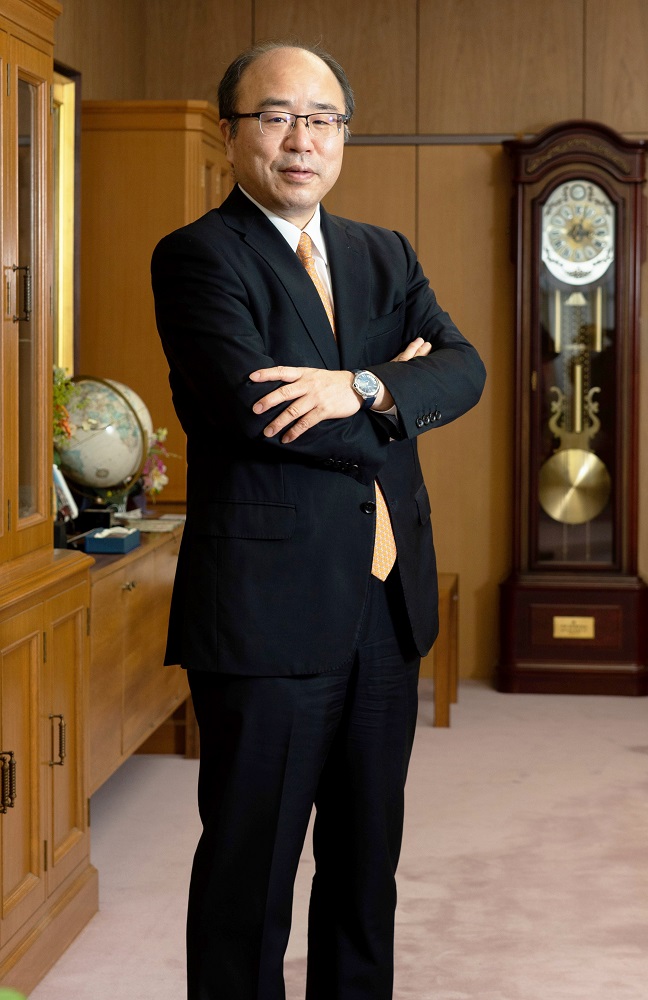 Interviewee Profile
Professor FUJISAWA Masato, Kobe University President
Born in Hyogo Prefecture, President Fujisawa graduated from Kobe University Graduate School of Medicine. In 2005, he became a professor at the Graduate School, subsequently going on to be director of Kobe University Hospital and an executive assistant to the university president. In 2019, he was appointed dean of the Graduate School of Medicine.
Robot-assisted surgery on prostate cancer was the first of its kind to be approved in Japan. Following on from this success, President Fujisawa also played a leading role in getting robot-assisted surgery for removing a portion of kidney cancer to be covered by health insurance in April 2016.
As Japan's leader in this field, Professor Fujisawa has a forward-thinking outlook. He is constantly striving to educate the next generation and to make robot-assisted surgery more widespread.
He co-developed the first Japanese-made surgical robot 'hinotoriTM' with the Kobe-based Medicaroid Corporation, which was approved for medical use in August 2020 (see article below).
Kobe University co-develops the first Japan-made surgical robot 'hinotoriTM'
World-first! Verification testing for remote surgery.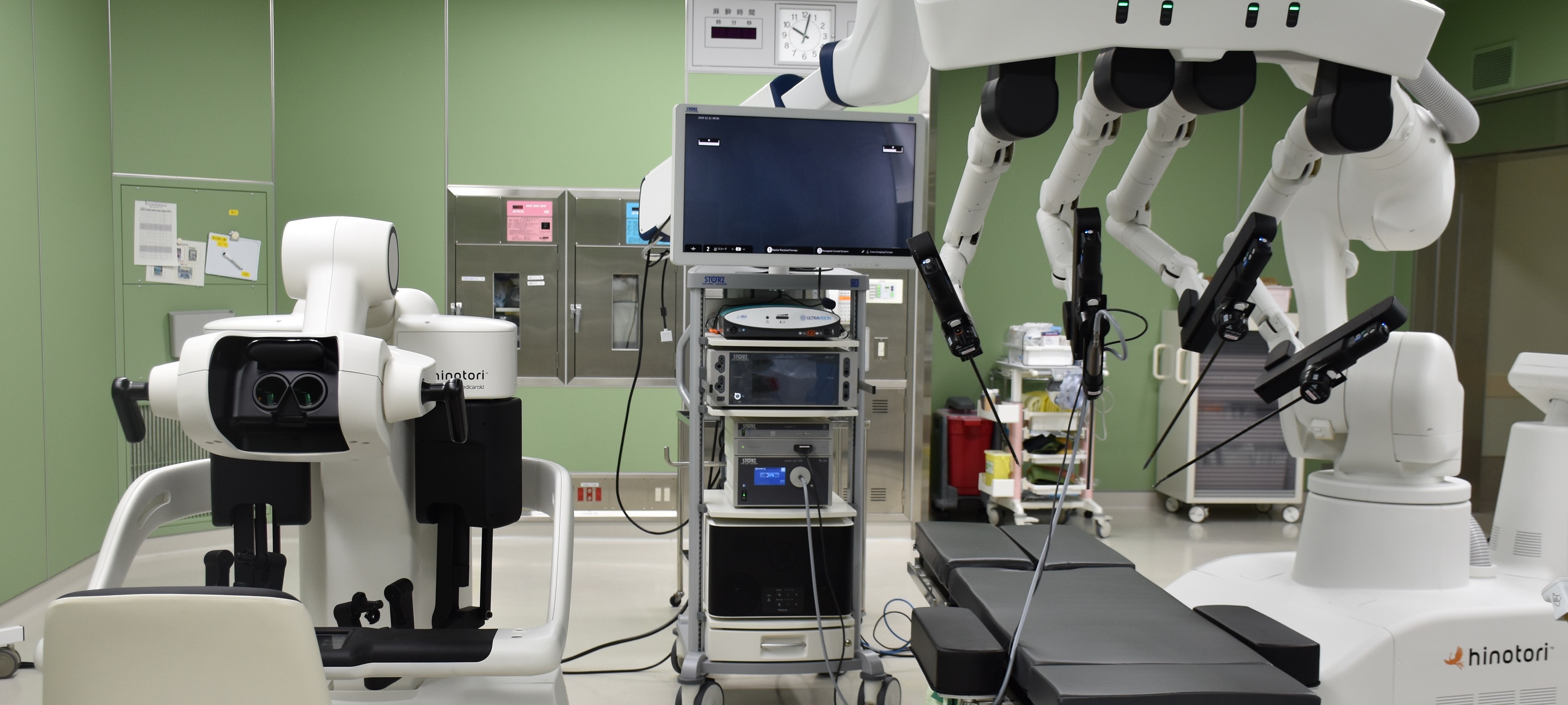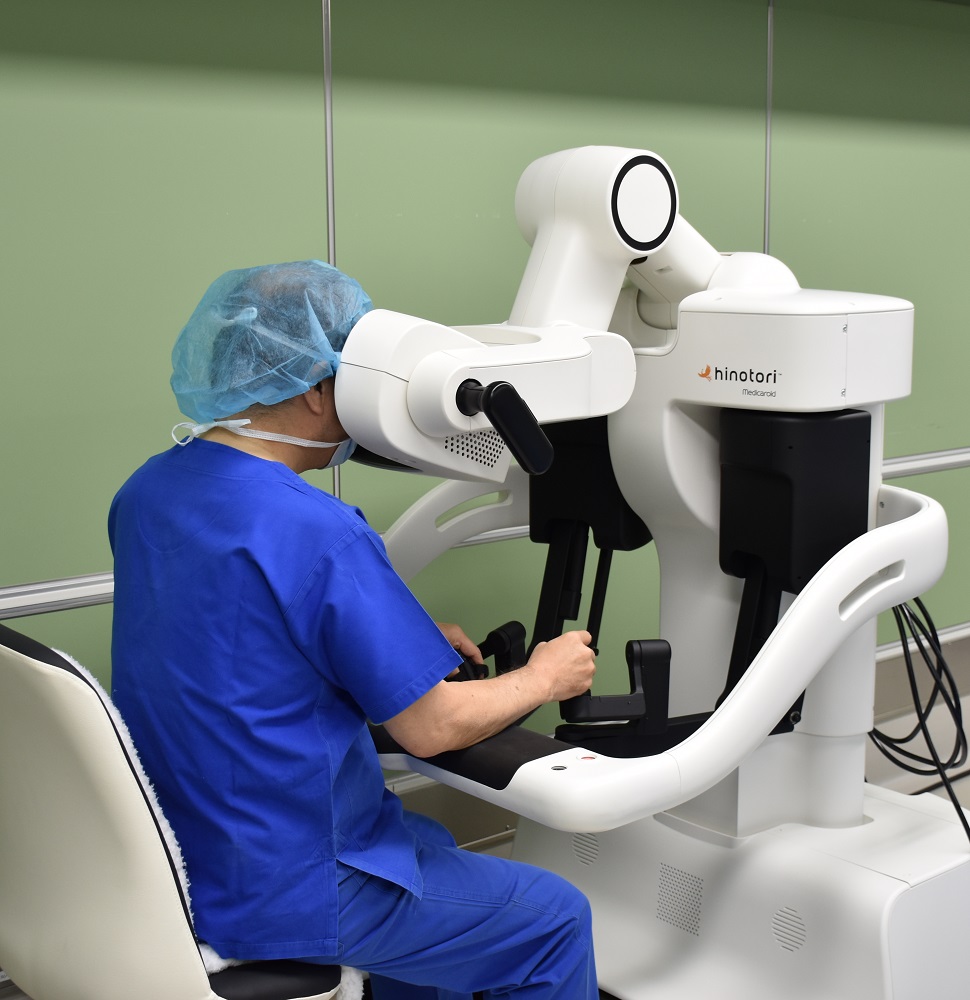 On December 14 2020, the inaugural surgery was successfully performed using the first Japan-made surgical robot 'hinotoriTM'. The radical prostatectomy took place at Kobe University Hospital's International Clinical Cancer Research Center (ICCRC). The surgeons were President FUJISAWA Masato (who at the time was the Dean of the School and Graduate School of Medicine, and a professor of urology) and Associate Professor HINATA Nobuyuki.
HinotoriTM was developed through a collaboration between Kobe University and Medicaroid Corporation. It was approved for medical use in August 2020.
In the cockpit, which is situated away from the robotic arms, the surgeon can view clear 3D footage of the surgical site while operating the arms. This enables more detailed surgery to be performed than was previously possible.
In the field of robotic-assisted surgery the American-made Da Vinci Surgical System is well-known, with over 6000 units currently in operation worldwide. Although there is little difference in their basic functions, one merit of hinotoriTM is that there is a greater degree of freedom to move the arms, making it easy to maintain the space during surgery. Currently, systems are being developed that use AI analysis to visualize surgical movements; these include a training system that allows young doctors to learn from operations performed by experienced surgeons and a remote system for assisted surgery that uses 5G (fifth generation cellular networks). Kobe University has established a verification testing facility, the Precision and Tele Surgery Center, in the ICCRC. This facility is carrying out the world's first verification testing for the telesurgery of a surgical robot (hinotoriTM) using a proprietary 5G network. 
From Kobe to the World: Photoimmunotherapy for Cancer
Trilateral collaboration between Kobe City, Rakuten Medical Japan, and Kobe University

On February 10th 2021, Kobe University's Graduate School of Medicine signed a collaborative agreement for the research and development of new cancer treatments with Kobe City and Rakuten Medical Japan Inc.
At Kobe Biomedical Innovation Cluster, various initiatives related to photoimmunotherapy are being conducted. These include research into developing ways to apply this therapy to a wider range of cancers, as well as surgical training for the doctors who carry out this treatment.
Photoimmunotherapy was developed by KOBAYASHI Hisataka, a senior investigator at National Cancer Institute (NCI). It is a minimally invasive therapy where a specialized agent (Akalux) that binds to cancer cells is administered and then a laser is used to target and destroy the cancer cells. Kobe University has already started using this method to treat patients with head and neck cancers. Next, they will conduct research into the application of this therapy to the field of urology, including prostate and bladder cancers, while contributing towards photoimmunotherapy-related education and the technique's widespread adoption.
President Fujisawa hopes that photoimmunotherapy will spread from Kobe to the world: "First of all, we will use this therapy to advance head and neck cancer treatment and then focus on cancers affecting other areas of the body. We have several ideas as to how we can apply photoimmunotherapy to urological cancers."
Note: this article is also available as a PDF in Vol. 11 of the Kobe University Newsletter "Kaze" (October 2021).
Related Links