Former European Council President delivers special lecture at Kobe University
July 28, 2022
Info
Keywords: Info, International relations, Students, Education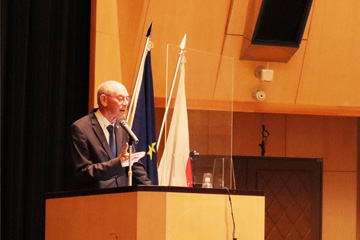 On July 14, Mr. Herman Van Rompuy, a former president of the European Council who has an honorary doctorate from Kobe University, visited our university to give a special lecture for the students. 
Mr. Van Rompuy has visited our university to give a special lecture once before, on April 26, 2010. Subsequently, he also made valuable contributions to Kobe University as a member of the Advisory Board until March 2021. 
This event was jointly hosted by EUIJ KANSAI and Kobe University. Mr. Van Rompuy delivered his one-hour lecture on "The Japan-EU relations after Ukraine: common destiny?" at the university's Rokko Hall. 
 The EU and Kobe University are deeply connected via EUIJ KANSAI, which has an office in our university. EUIJ KANSAI was established in 2005 with financial assistance from the EU and has three offices; in Kobe University (coordinator), Kwansei Gakuin University, and Osaka University respectively. The lecture was arranged by Mr. Michael REITERER, the former Ambassador of the European Union to the Republic of Korea, who is a guest professor of the Graduate School of Intercultural Studies, Kobe University.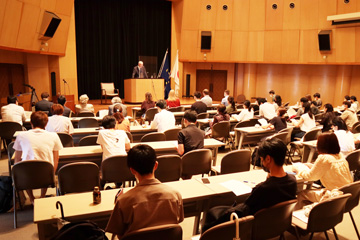 Due to the ongoing COVID-19 pandemic, the lecture was held as a hybrid in-person/online event with a total of almost 100 participants, mainly from the three aforementioned universities. 
In the lecture, Mr. Van Rompuy explained the relationship between the EU and Japan, beginning with their economic relations and circumstances. He also covered recent changes in the international situation, such as China's strategic isolation, that have resulted from Russia's invasion of Ukraine (which began on February 24). He emphasized that 'trust' has become even more important in this changed world, and that we must continue efforts to avoid the worst case scenario and not lose hope. There were many questions from students in the post-lecture Q&A, with students showing a high level of interest in the current situation in the EU.
Afterward, Mr. Van Rompuy visited President FUJISAWA Masato. They discussed the state of the coronavirus pandemic in Japan and Europe, as well as future plans for cooperation between the EU and Kobe University.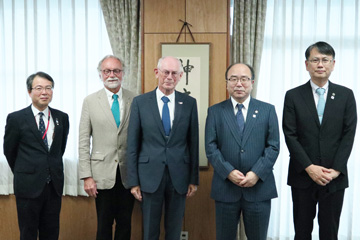 (International Affairs Planning Division)
Lecture Abstract
"The Japan-EU relations after Ukraine: common destiny?"
Mr. Herman Van Rompuy(Former President of the European Council)
July 14, 2022
The world has experienced fundamental geopolitical changes in the wake of the Russian invasion of Ukraine, which began in February. In light of this, we should value the relationship between the EU and Japan.
EU-Japan relations have been strengthened, for example with the signing of the EU-Japan Connectivity Partnership in 2019. We can see that there has been a solid relationship from an economic perspective as well. 
As a result of increased globalization, economic interdependence between countries has grown, however dictatorships continue to exist. With incidences such as the 2021 United States Capitol attack and the Russian invasion of Ukraine, it can be said that our world is more dangerous than before. However, even in the current unstable situation, the EU and Japan have remained comparatively stable. However, as events such as the collapse of the Berlin Wall in 1989 and various crises since 2008 have shown us, nothing is certain. This sequence of events is continuing with issues such as terrorism and immigration, COVID-19, inflation, and the invasion of Ukraine.
In a manner of speaking, we are currently living in a 'transition period'. During this period when the next stage is uncertain and previous rules can no longer be applied, we must maintain unity and protect what we have accomplished so far.