CAMPUS Asia Plus Program Students visit Executive Vice Presidents
August 2, 2022
Info
Keywords: Info, International relations, University partnerships
On June 29, ten students participating in the Kobe University Campus Asia Plus Program visited Professor OHMURA Naoto, Director of the Institute for Promotion of Higher Education, and Professor NAKAMURA Tamotsu, Director of the Institute for the Promotion of International Partnerships.
Professor KIMURA Kan (Chair of the Executive Committee), and Professor OGAWA Keiichi (Vice Chair of the Executive Committee) and Assistant Professor NAKAHARA Masato (in charge of the CAMPUS Asia Office) also attended. Each student introduced themselves and talked about how they intend to develop their research and vision for the future through the CAMPUS Asia Plus Program.
Professor OHMURA said that he hopes the students will take care of their personal safety and devote themselves to their studies abroad. He also stated that the university will provide huge support to international students who are coming to Kobe.
Professor NAKAMURA, who is highly knowledgable about education in other countries, explained the situation in South Korea, Laos, and China, where students will be dispatched by this program. Finally, he gave the students encouragement with the following: "Enjoy your studies and campus life!"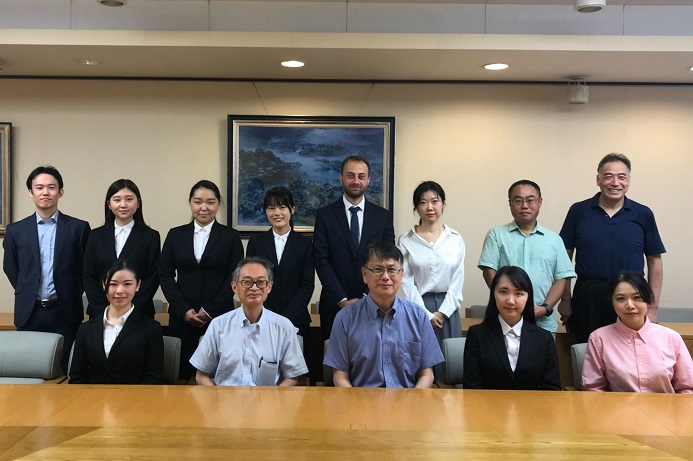 (Graduate School of International Cooperation Studies)