Professor Yasuko Mori presented with lifetime achievement award for pioneering herpes virology research
September 2, 2019
Graduate School of Medicine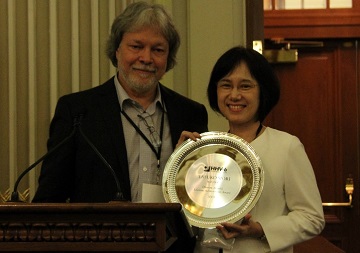 Professor Yasuko Mori (Kobe University Graduate School of Medicine) was presented with the Dharam Ablashi Lifetime Achievement Award at the 11th International Conference on HHV-6 & 7. This award is presented once every 2 years by the HHV-6 Foundation to leading researchers who have achieved great successes in the field of HHV-6 (Human betaherpesvirus 6) research. The conference was held in Quebec, Canada from June 23 to 26.
Over the years, Professor Mori has continued to conduct pioneering research into the viral entry properties of HHV-6. Her particularly notable achievements include the discovery of the specific cellular receptor for HHV-6B entry. This has contributed greatly to worldwide understanding of how the virus works. The Award commemorates the importance of her research and the high level of international recognition it has received.
The award was presented to Professor Mori by the previous recipient, Professor Philip E Pellet (Wayne State University) at a banquet held at the Quebec Parliament Building on June 25.
Related Information